WP GPX Maps Error: File /var/www/ride.bluecrocodile.co.nz/releases/20160107204732/web/app/uploads/gpx/activity_3224761707.gpx not found!
It's amazing what a difference 24 hours can make – yesterday before lunch I was comfortably cruising along at around 30km/h chatting with people as I went and having a great day out. This morning I was struggling to average 24km/h and having no fun at all!
The rain didn't come to much, and I slept pretty well, but woke up feeling like I have the start of a cold – that wouldn't surprise me as several other people in the group have had one over the last couple of weeks, but worse still my stomach was feeling really rough!
I got myself organised and ate some breakfast, but that made me feel even worse – I nearly got in the lunch truck, which in hindsight would have been a good idea, but decided to start riding and see how things went.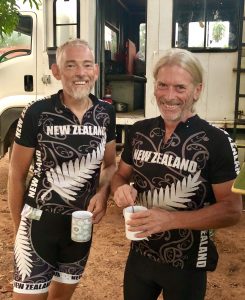 Today Canadian Kevin and I were both supporting New Zealand – I generally only where my NZ kit on border crossing day (and often the one after) but with no border crossings this 'week' and the shorts I'd worn yesterday not being completely dry, I decided to wear that today. Kevin knowing it wasn't a border crossing day thought he was 'safe' too! Oh well – Caroline took our photo at breakfast.
The answer to how the riding would go proved to be 'not terribly' – I was finding it hard going, and though I caught up with a few people along the way my progress was slow and the idea of getting through the 146km of the day seemed like it was going to be impossibly long and arduous.
We crossed a causeway from which we could see a number of local fishermen out and about in what looks like it's a man-made 'lake'.
At 50km I knew for sure it wasn't going to happen when I had to duck into the bushes to throw up! I kept plodding on, but when the dinner truck came by just after 60km I flagged them down once again and hitched a ride.
Today I was joining Ray and Brian two riders who also aren't well, and Essen who would usually be in the Hilux with Max, but he's still back at the hospital in Man
Brian was using his time when he had mobile coverage to plot his escape – he's not been well off-and-on for the last three weeks and has decided he's not going to recover while he's here so has booked himself a flight from Abidjan for Sunday. Tomorrow he'll ride the truck to Yamoussoukro then get a taxi from there to Abidjan. To say it's been a tough tour is to understate how tough it's been!
Eventually the truck stopped at the lunch spot but I wasn't feeling like eating so just retrieved one of my water bottles from the roof of the truck and added an electrolyte tablet to that – even though I'd only done 60km I'd done plenty of sweating and from my experience of being sick a couple of weeks ago I know dehydration is a real issue here.
Back in the truck and we still had a fair way to go – when the road's good the truck gets along at around 80 km/h but Noah is a very careful driver who takes very good care of his truck, so slows down for the potholes unlike most of the locals who just roar straight over them!
Coming over one of the bumps on the road I knocked my grazed ankle on the edge of the seat and it hurt – a lot more than it should have – which other than being sore didn't really register at the time.
We finally made it to the turn off for camp and discovered a lot of very low over-hanging branches so all the bikes had to come down from the roof of the truck. I rode mine in, pushing Sophie's.
Tonight we're camped right in the middle of a very small village which is actually a really great spot – there are a couple of very large old buildings which look to me like they're from the French times.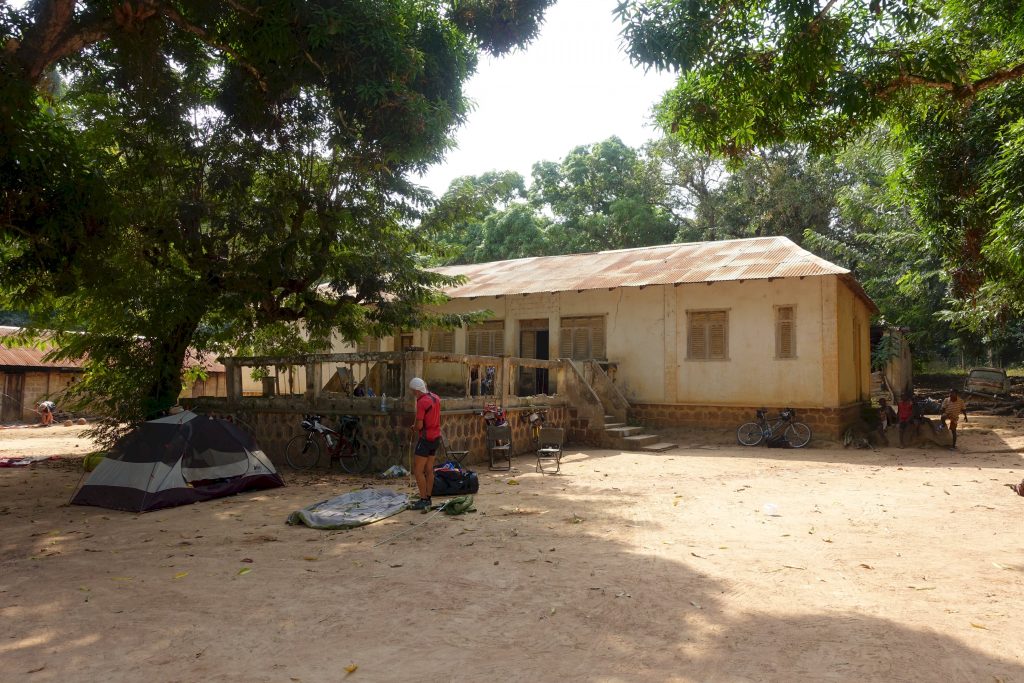 I got my tent up, had a wash, and then tried to have a nap. Outside my tent i just kept getting ants crawling on me, or midges flying into me. Inside my tent, even in the shade, it was just too darn hot, so I had to content myself with sitting in the shade and trying to stay hydrated.
During my wash I discovered why my ankle had hurt so much – the graze there is infected and is swollen, red and when pressed somewhat pussy – that shall need to see the Dr when he gets in from sweeping.
Since you missed out on the statistics on the last rest day because I ran out of steam getting posts done, and because David asked me last night, I can tell you there are only 660km of the tour left over the six remaining riding days. We have one rest day left, and one day where we get bussed around the city of Abidjan.
Although Yamoussoukro is officially the capital of Cote d'Ivorie, Abidjan is the largest city, and the fourth largest in Africa, so the idea of trying to ride through that doesn't seem sensible to TDA so we're being bussed round instead.
Somehow Swend had magiced up some cold beer to come to camp, but as an indication of just how crappy I'm feeling neither that, nor the offer of red wine from Canadian Kevin, could tempt me away from treated water and electrolyte drinks. Sigh!
Tom looked at my ankle and declared it not to be 'of significant concern' but definitely in need of antibiotics, so I now have a five-day course of those to take – hopefully they'll also help with all the other things currently ailing me!
Although I wasn't really feeling hungry I had some dinner anyway – I'd not ridden overly far today but without any lunch and only limited breakfast I was definitely in a calorie deficit and if there was any chance I'll ride tomorrow that needed to be addressed.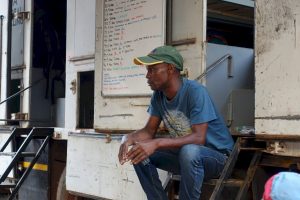 At riders' meeting Sedikir, our current local support person in CI, gave use some of the history of the country and the current political situation which he (perhaps somewhat optimistically) declares to be stable and positive.
We also heard that Max and Philippa are on their way back to camp, expected later tonight, as Andre is on his way to Abidjan by air ambulance – who knew they would have such a thing here – maybe CI is doing as well as Sedikir thinks!
The last couple of days people have been buying biscuits and offering them round at camp after dinner which reminded me of the huge boxes of biscuits that we were buying for exactly that reason in Turkey at the end of the Silk Route – maybe it's an 'end of tour' thing 🙂 I'll buy a couple of packets on the next rest day as it's quite nice to have something sweet with the evening cup of tea.
As usual once it gets dark (all the way to 1845 today) everyone begins drifting off to their tents, myself included!
View from my tent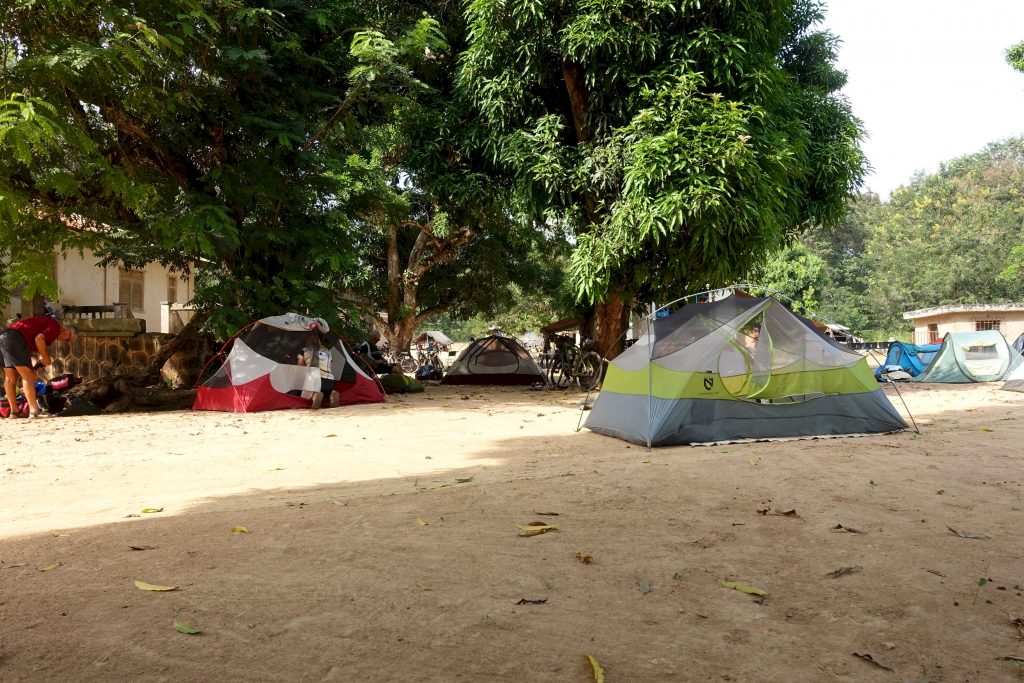 Selfie of the day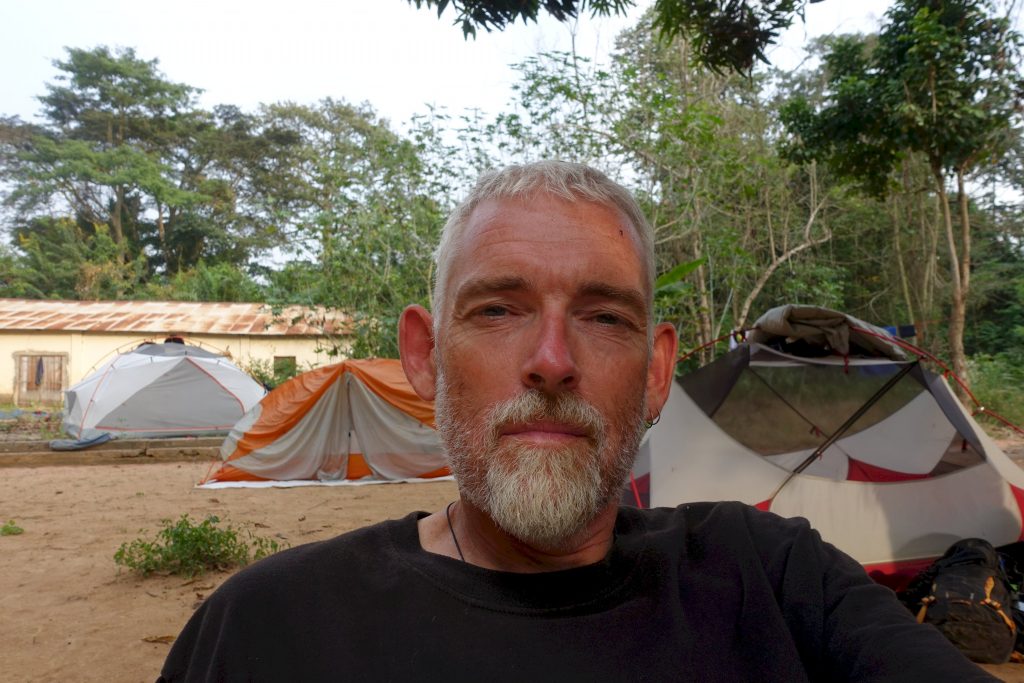 Riding data