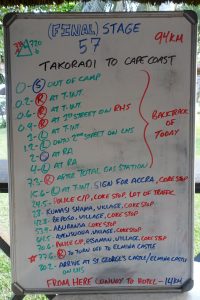 Once I finally managed to get to sleep, I actually slept pretty well, but woke up still hot and sweaty so it's going to be damp kind of day!
Pancakes for breakfast as a final-day treat, then for the faster riders it was a matter of waiting for the slower riders to get something of a head start so that we wouldn't be at the lunch stop for too long.
In the end I offered some words of encouragement to a couple of them to get out on the road – it seems to be that those who are slow on the road also take their time with everything else, and without the impetus of a deserted camp some were showing no signs they were going to leave any time soon!
The Kevins and I set off together shortly after a number of others, and it didn't take us long to be catching and passing people as we worked our way back through the town of Takoradi where we'd been overnight.
We joined up with Kim, David and Eleanor and for the remainder of the morning it was a changing group of us who rode together – at one stage our group had over a dozen riders in it which given we were all in matching tops must have made for a pretty impressive sight getting down the road at almost 30 km/h!
After 13,000 km on the Silk Route, 6,200 km of West Africa en Velo, and the best part of 3,000 km between, with only 76 km to go I got my first flat tyre. Thankfully the group stopped for me to swap out the tube, and Mateo found the piece of steal wire (from the crap truck tyres) that had been the cause.
There was plenty of traffic about, and in places the road was in pretty poor condition – a combination which when riding in a group means you really have to keep your wits about you, and really trust the people in front of you to signal pot-holes, speed bumps, lunatic drivers and all the other hazards about.
Kim was keen for ice cream, but after almost 10km of looking that didn't seem terribly possible, so we stopped for a 'coke' instead


Of course no sooner had we set off than a flash looking service station appeared and she was stopping again while most of the rest of our group carried on.
It wasn't long after that we got to the turn-off which was going to take us to Elmina Castle and the lunch / photo stop. I dropped off the back of the group for a photo opportunity.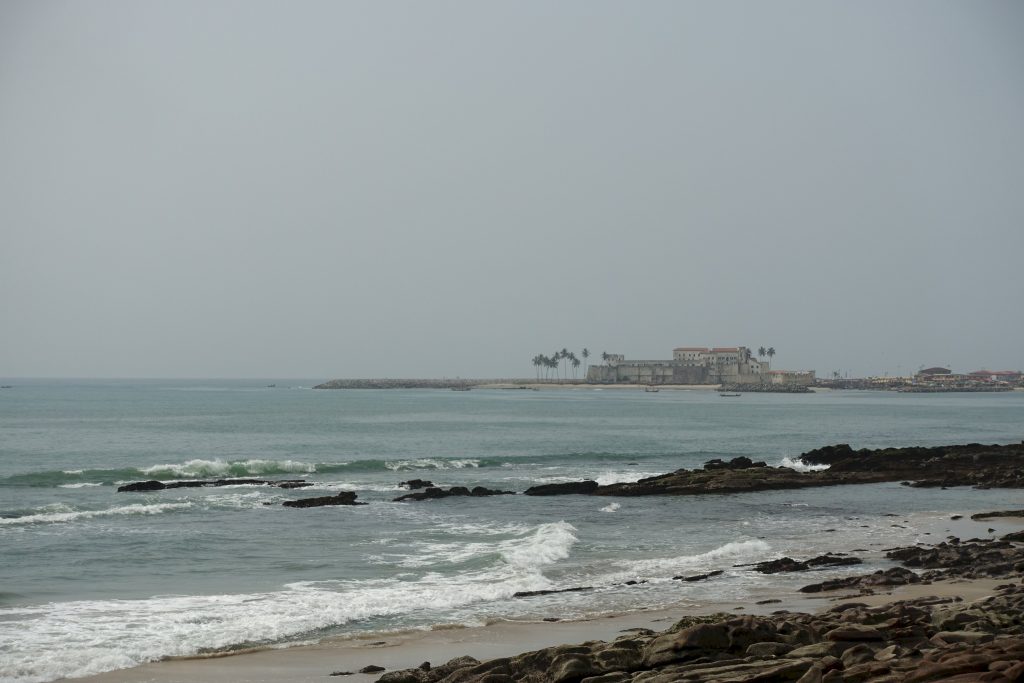 On to the fort and our lunch stop – in the end we were there somewhat earlier than ideal, but we'd been having so much fun on the road that the 'taking our time' hadn't quite happened.
Lunch was also an upgraded version of itself with some of the usuals, but also an amazing cheese board, charcuterie, smoked oysters, juice etc etc.
I subsequently discovered that Elmina Castle was the first trading post built on the Gulf of Guinea, and is the oldest European building in existence south of the Sahara! Had I known that at the time I'd have paid the 40 Cedis (about €8) to go in, rather than just taking a look from the outside.
There's also a bustling fishing port in the river which comes out at the castle
And of course plenty of locals wanting to know what was going on
Eventually we were all in and the obligatory photos could be taken
Although that was the 'official finish' we still had 14km to go to the actual end of the tour at the Ridge Royal hotel which we were doing in a convoy.
In to the hotel and the first order of business was celebratory drinks and photos!
Eventually it was time to get on with the organisation – dismantle and pack my bike, get checked in to the hotel, get clean, and relax ready for tonight's dinner.
The hotel did an amazing job of dinner, but despite best intentions by 2130 we were all fading fast and it was time to head off to bed well satisfied with having made it to Cape Coast and the end of our amazing adventure!
View from my tent
Selfie of the day
Riding data