WP GPX Maps Error: File /var/www/ride.bluecrocodile.co.nz/releases/20160107204732/web/app/uploads/gpx/activity_3186326048.gpx not found!
Despite the fact that we were all camped pretty close to each other last night the white noise of the waterfall helped to drown out the nightly noises of my fellow campers whilst also keeping things nice and cool. Everything was also dry this morning, which makes a nice change after recent mornings – I guess the waterfall keeps the humidity relatively stable?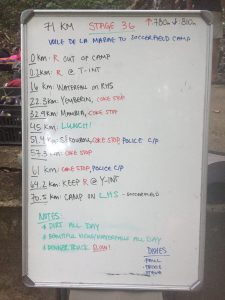 Today was to be our first full day of unpaved roads and if the small section we'd come in on last night was anything to go by it was going to be great fun – and we weren't disappointed!
We'd been asked to be prompt getting ready this morning, but then not to rush – the vehicles were going to be slower on the road, particularly the mothership, than us, so there was no rush to get to lunch or camp because there wasn't going to be anything there!
In fact the crew were sufficiently concerned about how long the dinner truck was going to take that they had packed a basic camp kitchen into Shartia's Hilux (and the trailer) which Errol drove to camp so that there would be water, tea, soup etc ready for the earlier riders during the expected wait for the dinner truck to make it through.
Though we were trying not to rush we also wanted to get out on the road before it got too hot, so in the end set off at our regular time of just after 0700. The route today is on the inland side of a range which more-or-less runs parallel with the coast about 60km away – this range also separates us from the Guinean capital of Conakry, which we don't actually visit (we were about 100km from there when we turned off onto the gravel road last night).
Once we got underway it became clear this was going to be a fun day! The road undulates along with some steep climbs at times and fantastic descents to follow, with spectacular scenery to our right – there are lots more photos below!

I'd stopped to take a photo of the ridge line when Dean and Australian Kevin came towards me so I made a quick video of them coming towards me.
Not long after we set off we spotted a rather odd looking building in the distance – it turned out to be an agriculture research centre which by the looks of it was a gift from some foreign government in the 1970s and looked seriously out of place where we were.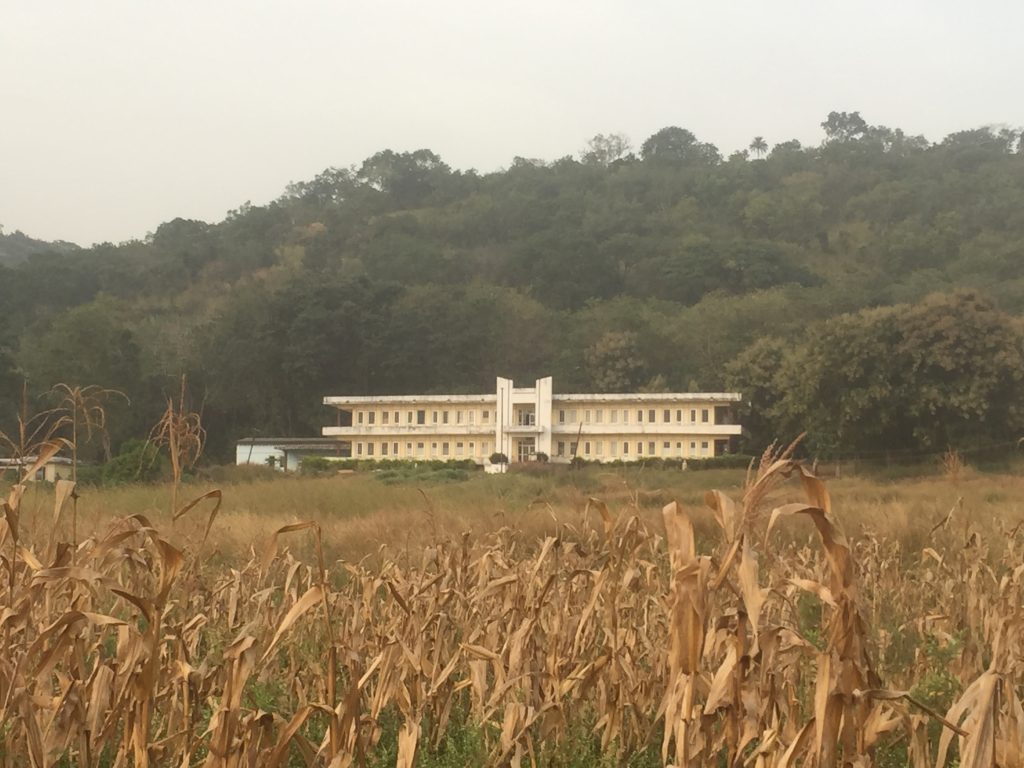 A number of us were riding more-or-less together to begin with but were soon spread out across the distance by the combination of the hills and experience riding on gravel. Australian Kevin and I tended to be within sight of each other for much of the day.
At one point when I stopped I could see a group people working in the fields below winnowing rice:
Lunch was tucked in to a great spot as usual – Lezinda had enjoyed her drive this morning – she hadn't had any riders with her which meant no bikes on the top of her van to slow things down as on previous off-road days so had been able to make much better progress while practicing her rally skills – lunch was definitely shaken not stirred today!
As I passed one village they were getting ready to burn charcoal which seems to be a significant product in this part of Guinea.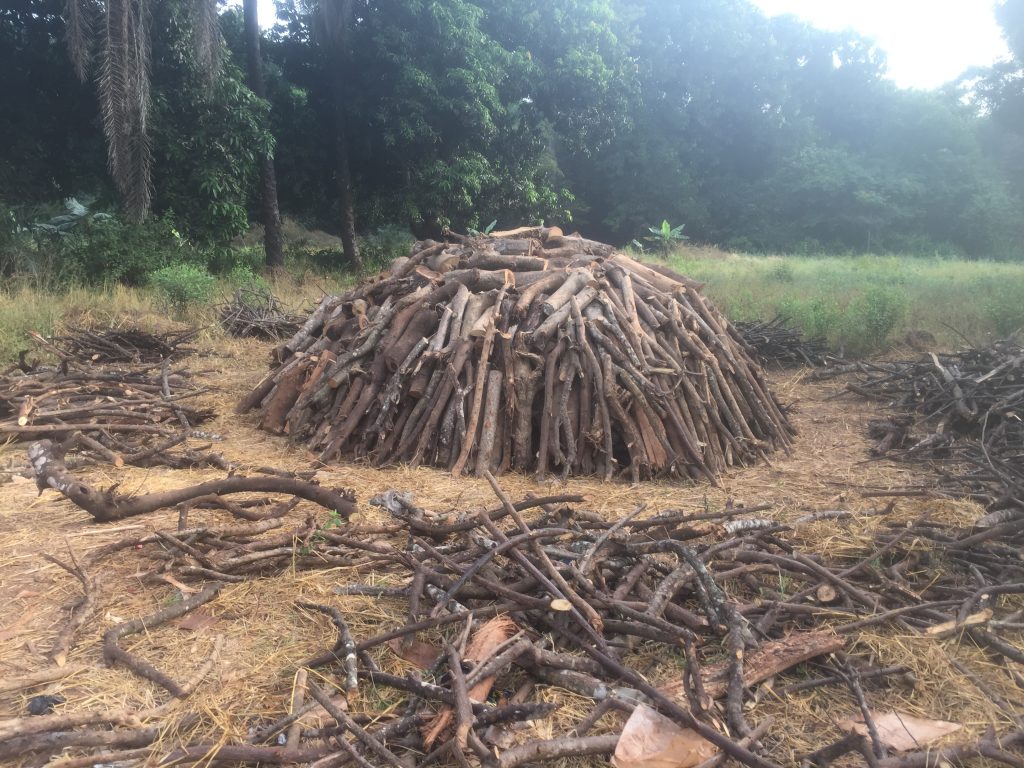 Through to lunch the road hadn't been too bad, and in one place was under active repair with all of the culverts dug up and reinforcing steal in place for their replacements, from lunch to camp the road was in much worse condition, and at time extremely narrow.
Shortly after lunch I stopped in to take some photos of a school which we passed, it being Sunday afternoon there was nobody about.
As we were about to get to camp we crossed a small creek and I stopped to give myself a wash – after 70km of dusty roads in hot humid conditions my legs and arms looked like I'd had a very bad spray tan applied! It was also very refreshing in the water.
Up to camp and I discovered that the entire village – on whose soccer field we're camping – had turned out to welcome us and were under the tree with the crew. They provided a very rousing welcome!
We staked out a spot for our tents under some trees and in the end moved some camp chairs from where the crew and villagers were over there just to be out of the spotlight of 100 people staring at what we were doing which at that point wasn't very much at all – it was too damn hot to move!
As well as some fruit which the village had given us, one enterprising local set up shop selling soft drinks and did a great trade.
Noah managed to pilot the mothership through the bad roads significantly quicker than we'd expected getting in just before 1400 which lead to the usual afternoon activities getting set up, though given how hot and humid it was, and how early it still was, we were taking everything very slowly.
Not unsurprisingly there were a number of tumbles today and the docs were kept busy cleaning and patching up people as they came in with scrapes here and there – so far I've been able to avoid that – long may it continue.
Dinner, couple of cups of mint tea, some chatting, and it was time to pull the fly over the tent to keep the dew out and get some sleep – tomorrow we're off to country number five Sierra Leone!
View from my tent
Selfie of the day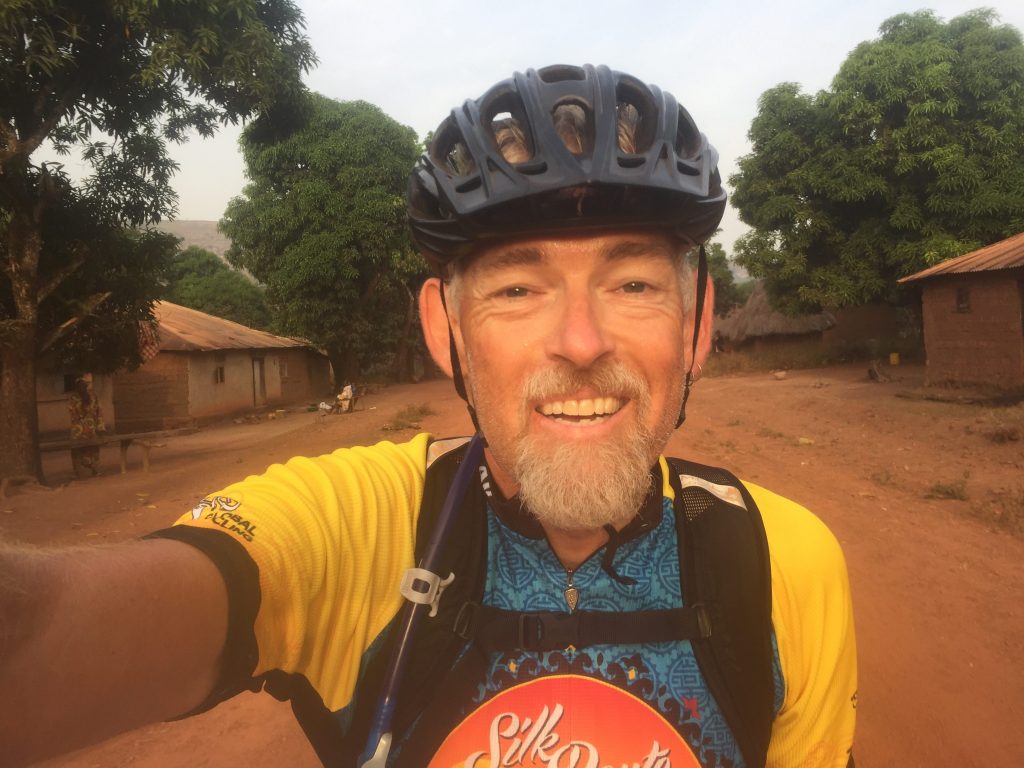 Riding data