WP GPX Maps Error: File /var/www/ride.bluecrocodile.co.nz/releases/20160107204732/web/app/uploads/gpx/activity_3128579442.gpx not found!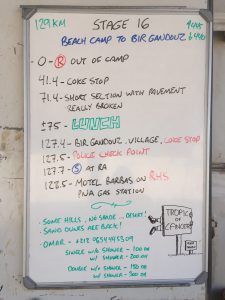 When I went out for a pee at around 0130 the moon had yet to rise, and being out in the middle of nowhere the stars were amazing with a bright clear band of Milky Way above us. It was also really rather chilly and I was thinking I should have put my fleece on as well as my t-shirt before venturing out.
The daylight savings not ending in Morocco had been causing some confusion, but somehow my phone seemed to be behaving correctly and showing me the 'right' time.
This morning I was woken at 0555 by the sounds of packing outside my tent – why….? I thought? why are they up so early, breakfasts' not till 0730? I was dozing a little when I thought – actually that's lots of packing up going on – look at my phone again – opps – it's now actually 0705. Best I get myself sorted, and promptly!
Thankfully I've got a pretty good routine, and everything goes in the same place both in my tent, and in my bag so I was able to get packed and my bag in the truck before breakfast was called.
Coffee, porridge, banana for the road, fill the water bottles and we were on our way. First out of camp was a reasonable descent and with the wind behind us we were up to 40km/h in the first few km – not how we usually do things – it generally takes at least 10km to get into the morning!
Today had even less in store for us than yesterday – particularly when we rolled in to the 41.4km coke stop to find it firmly closed. Some very kind local who was working on their car offered us water, but we were doing fine so declined and got back on the road.
The tar-and-chip of yesterday has continued, but has been rougher in places which does knock the speed back, but while the wind did drop away through the night it pretty quickly built back up again.
From the coke stop Canadian Kevin, Mateo and I were too quick for Australian Kevin again, so we slowly dropped both him and Essen who had set out with us.
In to lunch and the advantage of baked chicken for dinner last night, and the fact that there's a fridge i the lunch truck, was that there was left-over chicken for lunch as a change from the usual lunch fare!
Back on the road, and with nothing to stop for we rode the entire stretch from lunch to 'camp' without stopping, mostly sitting at 33 – 35km/h which gave us our second-fastest day of the tour with an average of 31.6 km/h.
There's been more traffic today, which given it's the same road as we rode yesterday seems odd. There was also a surprising amount of traffic overnight – which when you're camped 100m from the road sounds like it's coming right through your tent.
We really are intended to camp in the gravel carpark of a service station – somewhat reminiscent of Silk Route pre-border-crossing nights.
Thankfully the hotel that's part of the complex has rooms, they work out at £12 per person a night, and though basic are clean and available. Australian Kevin and I are sharing one for the night!
The complex is certainly the biggest building we've seen in a while.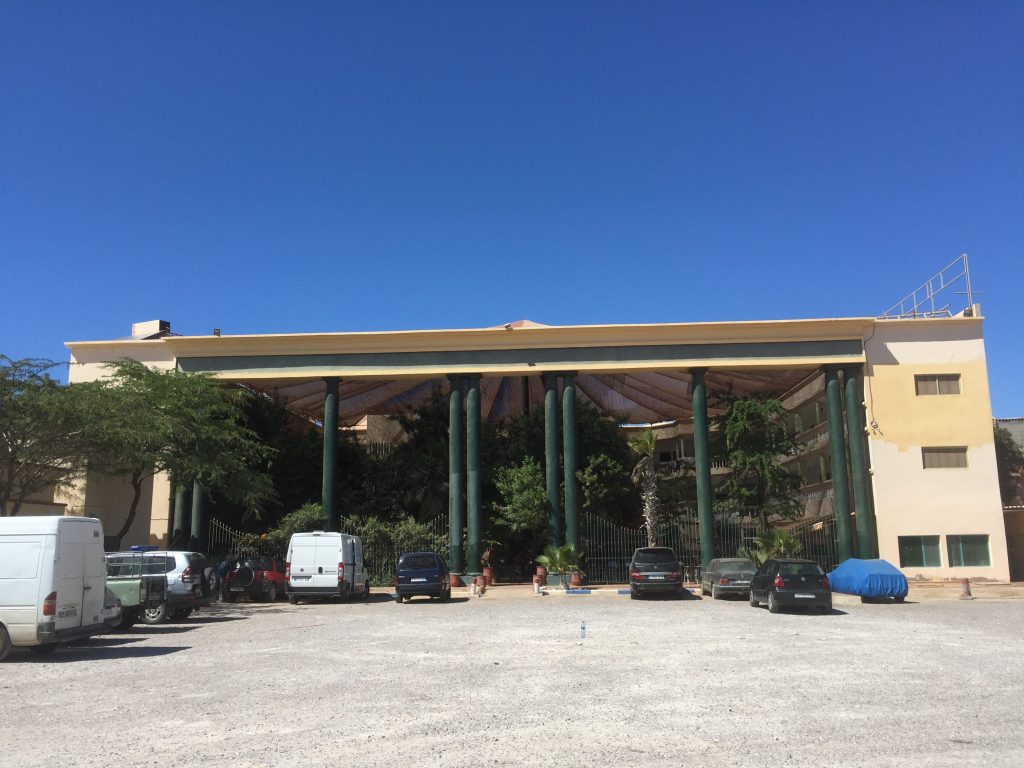 In the centre is a huge atrium complete with sunshade over the top, and trees below – almost like a mini Dallas FileMaker conference hotel – but (thankfully) without the air-conditioning.
I'd got in ahead of Kevin so sorted out the room and got myself through the shower before he came in. I started my shower with my cycling kit still on – soaped that up well, rinsed off, then got undressed to actually wash myself.
I've put a line up in the carpark to get that stuff dry which given that it's still only 1400, and pushing 30 degrees, should take all of five minutes!
After some soup I gave Colleen – one of the cooks on our tour – a hand to peel a sack-full of spuds, so I know that at the least we have mashed potatoes for dinner tonight.
I also took a wander down the main street – this place has something of an 'end of the world' feel about it, which I guess given it's the last Moroccan town of any note between here and the border makes sense.
I've spent the last couple of hours sitting in the shade, and out of the wind, in the hotel atrium getting caught up with emails and blog posts – nice to be in such pleasant surroundings while I'm doing it.
I'm expecting that tonight's riders meeting is going to be quite long as tomorrow's our first border crossing of the tour which given the size of the group, the number of vehicles, and reports of the border crossing being somewhat bureaucratic  is likely to be a complex process.
And here's the photo of the four of us at the Tropic yesterday.
Later: As I expected lots of discussion around tomorrow, and I have to say I think the plan, such as it is, is destined to failure and a long hot afternoon sitting at the border.
The border closes (probably) at noon, for (probably) an hour, or an hour and a half, or maybe even two hours. So, the plan is to get everyone across by noon – thing is, that's nearly 90 km from where we are now… working backwards from that, basically means to stand a chance of that we need to average 32 km/h.
Even for us, who managed just shy of that today, that's a pretty tall ask, and we were riders 3 – 6 to get in today. Sure some of the slowest riders will elect to take the truck to lunch, but there are plenty of others who won't want to do that, so it looks like maybe a quarter of us will get caught waiting on the Mauritanian side for everyone else to get over 'after lunch', as they want to ensure that everyone is in Mauritania before anyone starts riding. Mongolia / Russia crossing all over again.
In my view we'd be much better of planning to cross as soon as the border re-opens – that would give the slower riders plenty of time to get there, and allow faster riders to leave later in the morning to arrive 'just in time' – ho hum!
Dinner proved to be meatballs and tomato sauce with the mashed potatoes – plus the regular salad – at first glance it appeared that it was cucumber-free but instead it had just been really finely chopped so it was even harder than usual to get rid of!
Most of us have opted for the hotel tonight – there are only about half a dozen rider tents in the parking lot – so we're now back in the atrium chatting and arsing about on the internet, with a side order of grumbling about tomorrow's 'plan' thrown in.
Either way – it's a new country tomorrow, my first new country for 2018 – I've left this run pretty late! There is talk of being able to buy SIM cards at the border, but in reality I don't expect to be back online till we get to Nouakchott, so if you don't hear fro me for a few days – don't be surprised.
View from my tent
Selfie of the day
Riding data