It was wonderful to sleep in a real bed last night after over two weeks of non-stop camping, and then not to have to wake up at any particular time was even better. In the end Ray was the first up in our bungalow just after 0830, and I followed shortly there-after.
Breakfast was an interesting affair – about 20 different types of bread, some meat and cheese, omelette if you waited, and if you were lucky a small roti (which was worth the wait). And then several different flavoured milks, including mint which was a bit like a mint-candy trumpet!
I had some work jobs to do which I made a start on, but they were getting somewhat complicated and time-consuming so I took a break from that to get my laundry done – others had reported that things weren't drying as quickly as they had expected so I wanted to get things out on the line sooner rather than later.
Laundry done and it's been back to work tasks. I was feeling like I should go into the town to see what there was to be seen, but rumours were that much was closed today for reasons which aren'y entirely clear to me, and over lunch I heard from those who had gone in this morning that it wasn't worth the effort so I've made the executive decision not to bother.
Lunch was another excellent meal, with several local dishes and a fantastic array of salads – I need to remember tomorrow morning that I ate a lot of beetroot today, what with beetroot juice at breakfast time, and beetroot salad for lunch!
The day before yesterday as we passed Sharita took an awesome photo of our group and has kindly sent me a high-resolution version.
There was also a great photo from the stage 13 lunch stop which I'm also in which TDA posted earlier in the week: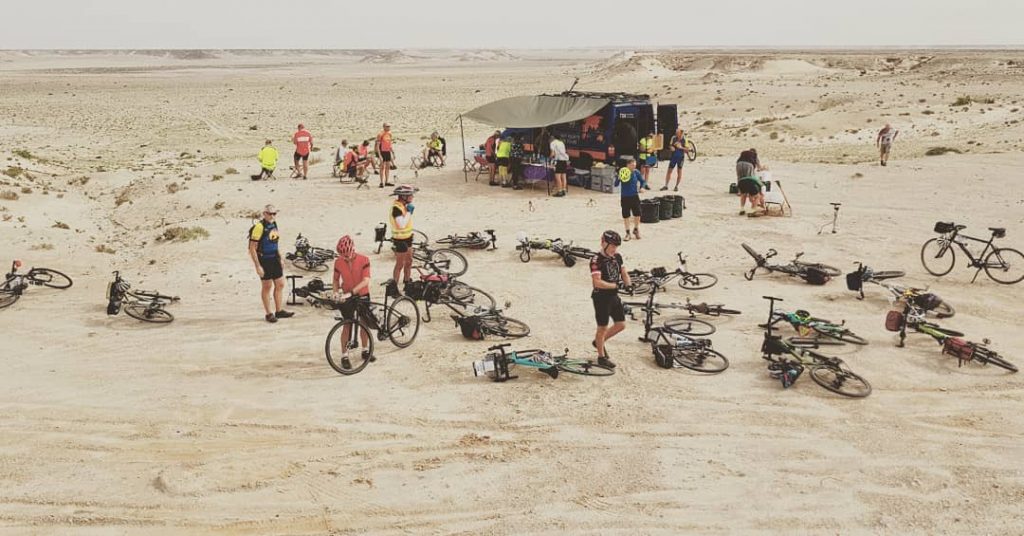 Work jobs have continued off and on over the afternoon as I've also been shuffling things round for border-crossing day – this means I need my NZ cycling kit in my day bag, as well as my yellow fever card and passport, all of which have been in my permanent bag to date (other than my passport which has been to the UK and back 😉
Talking with Adam yesterday and we're thinking that we'll come here early next year for a little mid-winter warmth. We've tended to go to Spain over Christmas over the last few years, but with me not getting back till Christmas day that's not happening this year. This resort does a seven day surfing / kit-surfing series of lessons which includes room and board for a pretty reasonable price, and it's only about £350 return to fly here from London, so given how enjoyable it's been it seems like a great opportunity!
We have another 163km day tomorrow as we leave Dakhla – we have to backtrack about 30km and we know from the last week that's going to be pretty tough going because it's going to be into the wind, but then we turn back south and the following 130km should be pretty good – essentially the inverse of the last 160km day when we have 130km of head wind and 30 of tail – at least that's what we're all hoping 🙂
Here's the plan for the week – as you can see it's another long stage with six riding days, and 820km of riding to cover in that period.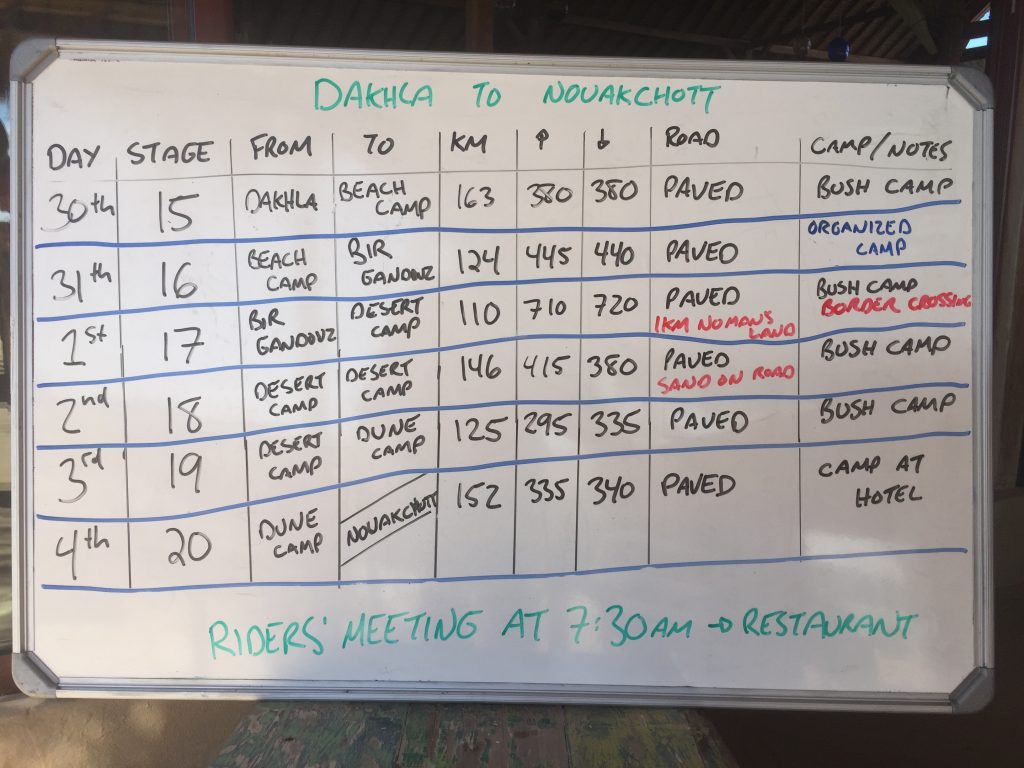 The weather looks like it's mostly going to play its part in us having a great time – here's the forecast for our current location: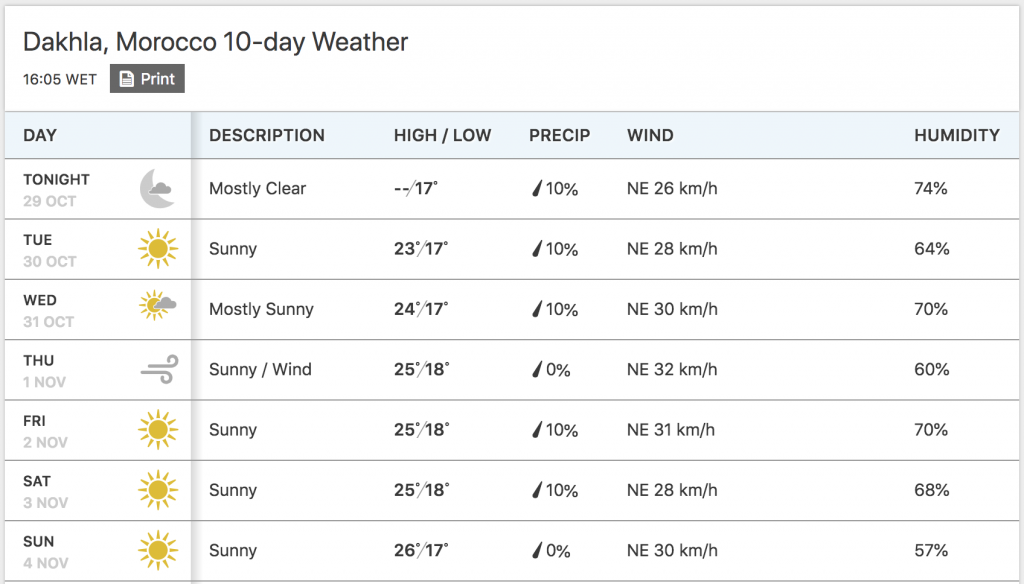 And then for our destination, Nouakchott – the capital of Mauritania: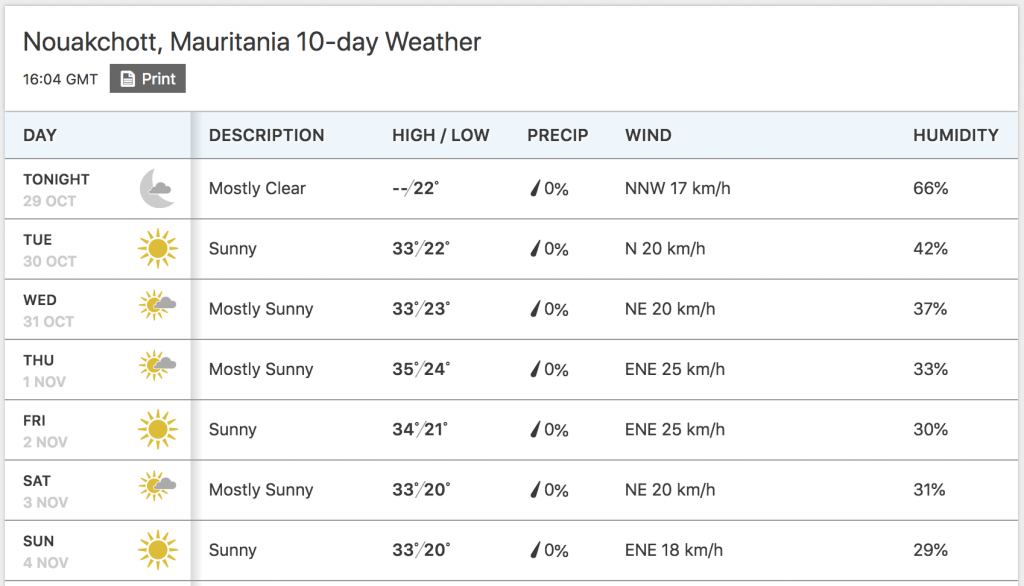 The first 30km tomorrow morning will be a bit of a battle, as will the last 20km on stage 17 after we've crossed into Mauritania and need to get east. Stage 18 could be pretty tough too – we head due east for quite some time, then continue south-east for the remainder of the day, which with a strong NE may not be such fun! The two days in to the rest day should be back to sailing again – fingers crossed!
Given how enjoyable it's been having a nice hotel for this rest day, the distances we cover next week, and the fact that the week after is also six days and a similar distance, I'm thinking I might spend a little extra and book a room at the hotel we're camping at, or at least near by.
It's taken most of the day, but I've finally got the urgent work things taken care of – hoorah!
It's amazing how hungry I get even on a rest day – I've been sitting round staring at my laptop pretty much all day, had a reasonable breakfast and a good lunch, but now at 1800 I'm well ready for dinner though have to wait another two hours before it arrives! Best I go and do some packing as a means to occupy myself – the alternative is to join others on the terrace drinking beer which given tomorrow's distance doesn't seem like the best idea!
All going well you should get updates tomorrow and the following evening, but the next day we cross into Mauritania and I'm not sure how I'll go getting s SIM card up and running – my research suggests that Mauritel is the best option, and it's reported that there are vendors at the border, but how that will play out we'll have to wait and see.
View from my tent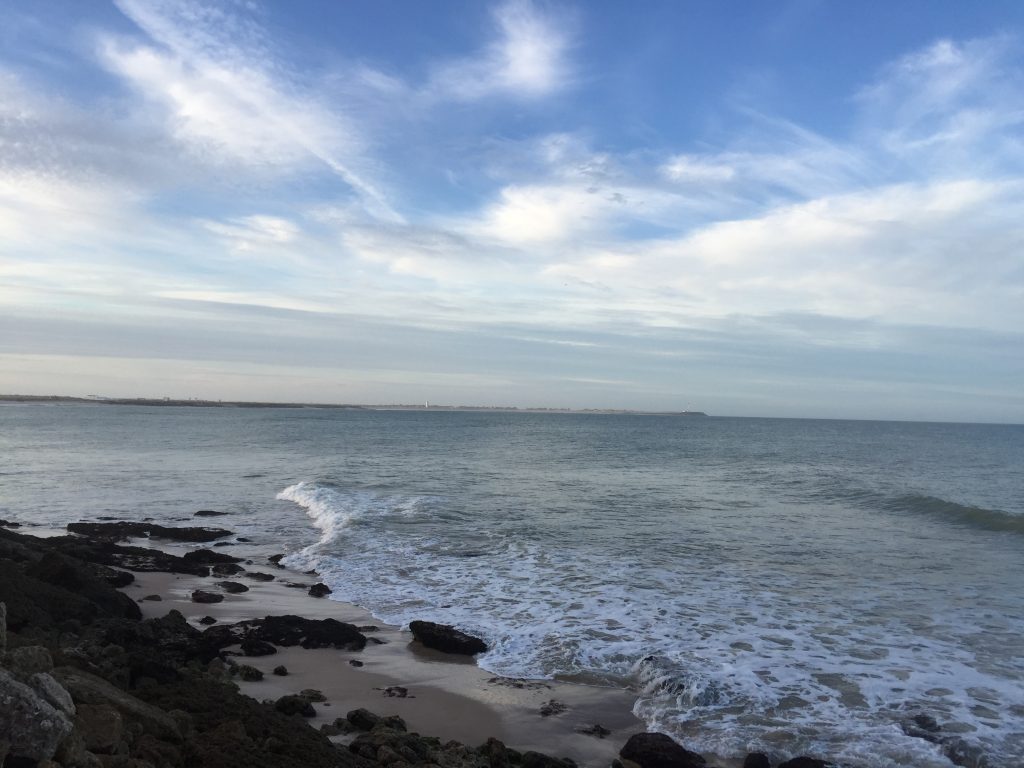 Selfie of the day
Riding data
No riding data on a rest day, no indeed not because on a rest day we do not ride our bikes!
Instead I'm going to instigate an overall progress report in place of the regular daily riding data. To date we've:
completed 14 stages for 26% of the total 53 stages
covered 1,775km for 28% of the expected 6,395km
climbed 8,099m and descended 8,065m
I've spent 72 hours, 28 minutes riding at an average of 5:10 riding per stage, with the longest stage at 7:05 and the shortest at 3:15