WP GPX Maps Error: File /var/www/ride.bluecrocodile.co.nz/releases/20160107204732/web/app/uploads/gpx/activity_3122362422.gpx not found!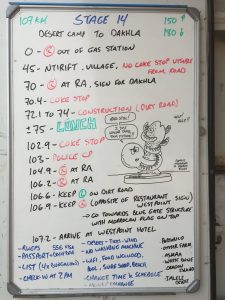 Somehow the police didn't seem so close last night, but the fact that we were on the edge of the cliff with a completely flat plain to our left meant the idea of privacy when you needed to 'go' really didn't exist!
We thought that daylight saving was ending last night, so this morning coffee was at the new time of 0630, and breakfast at 0645 – honestly it doesn't matter what time the hour is called, so long as everyone knows when that hour is. Unfortunately for a few of our number the update didn't go smoothly, so there were a few missing at breakfast time!
After some dawdling the 'usual suspects' I've been riding with (Kevin, Kevin, Mateo and I) set off – we began at a leisurely pace, but with the smooth pavement and the tail wind we soon pushed that up to around 32km/h which meant we were moving a lot faster than many of our colleagues already out on the road.
As we caught Annegrete and Hanna they decided to join our group and jumped into the train. We caught a number of other riders before passing Hanns who was taking a comfort break (which in this case didn't mean having a pee, but applying chamois cream!).
By now we were approaching the end of our first hour on the road and had managed to beat our effort of a few days ago as we were 'cruising' at a very enjoyable 33.3 km/h. I think that's the most comfortable hour I've ever ridden at that pace!
As I came off the front of our group I tried to get a video of our little train, and to give some idea of how flat it is out here (in total today we rode just under 107km, and in the first 75 we changed altitude by a total of 7m)
Hanns managed to catch us shortly before Annegrette and Hanna dropped off the back – we were just a bit too quick for them.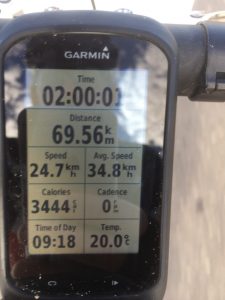 We took a break at 50km for the requisite pee and proverbial banana, before getting back on the road as a group of five. We took a couple of kilometres to get back into the swing of things, but then pushed up the pace to the point that we were comfortably sitting at around 42 km/h which got us to the coke stop at 70km in almost exactly two hours.
Later my Garmin congratulated me on my fastest 40km, and it certainly was – I'm pretty sure averaging 34.8 km/h for two hours is the fastest consistent ride I've ever done.
As a side note, for us that felt like we were flying, but keep in mind that over the entire Tour de France, including the climbs and the cobbles, their average speed is around 40 km/h – on a section like we'd just ridden they would have been in the 50 – 60 km/h range!
We stopped in at the coke stop, and got drinks to go – it really has an 'end of the world' feel about it, but they are the coldest drinks we've encountered in a quite some time!
Turning right at the roundabout was the end of the party for a while as it put the wind across us. The road is also under reconstruction so it was pretty rough for a while.
It also brought about a significant change in scenery as we headed from the mainland onto the peninsula that Dahkla is on.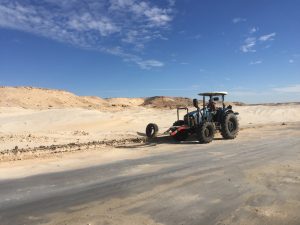 As we crested the rise that gave the above view we also caught a tractor of the type I was describing yesterday with the 'bowsprit' used to push the boats into the waves.
From there is was a coast down towards the causeway which connects the mainland and the lunch stop.
Again it was another busy lunch – poor Lucinda, who takes her role as lunch-provider very seriously, it was a stressful time as we all began to roll in in rather quick succession.
We took our time at 'lunch' since at this stage it was not much after 1000 it was more like second breakfast than lunch.
Back on the road and the first few km were pretty slow as we cut across and into the wind, before climbing onto the peninsula. As we came over the crest a small fleet (herd? flotilla? collection?) of camels were crossing the road.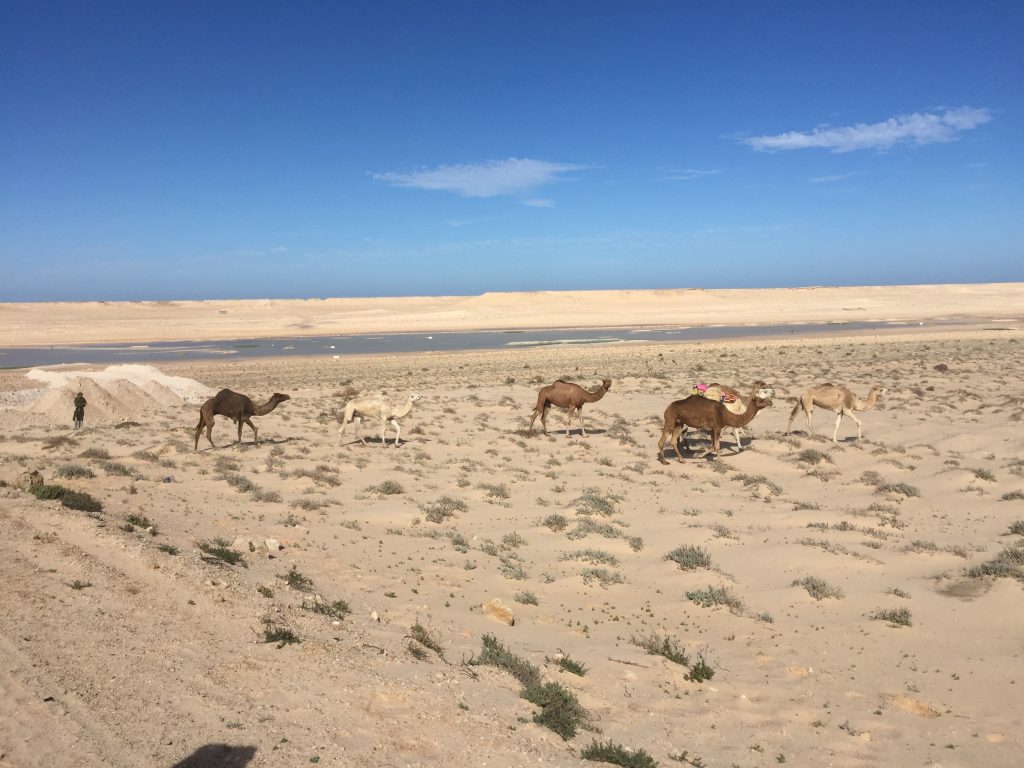 I already knew that Daklha was the self-proclaimed 'World Capital of Kite Boarding', but once we got a little further on that really became apparent – across the estuary there must have been 100 plus people out on their boards – you probably can't see them in the photo, but it looked like a swarm of mosquitos out there!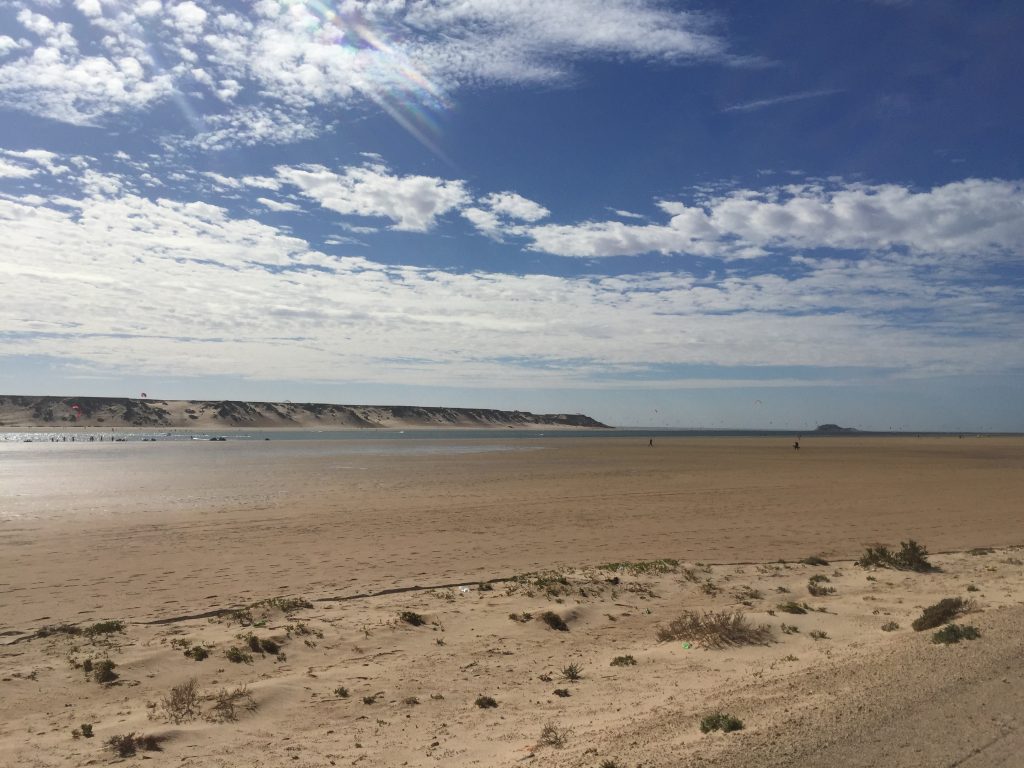 As we headed down the peninsula that put the wind back behind us which pushed our pace back up again to a very comfortable 32ish km/h and soon meant we were turning off the main road to head to the Atlantic side of the peninsula and 'home' for the next two nights.
In to 'camp' and an interesting discovery – when the scouting had been done a year or so back each bungalow had four beds – since then there's been an 'upgrade' such that downstairs there's a queen size bed – perfectly acceptable for the average couple plus children – not so comfortable for four blokes on a cycle tour who don't really know each other quite that well!
Some shuffling round, and presumably the outlaying of a few more euros, and we had three people per bungalow – I somehow won the long straw in my bungalow so have the big bed downstairs while Ray and Dan have the 'children's' beds upstairs on the mezzanine.
The other bonus is that we seem to have won the sea-front bungalows which give an amazing view out to the Atlantic. I hung my tent out to dry on the rail, then took a very welcome hot shower, complete with hot shave – it feels like we have returned to something approaching civilisation after the last couple of weeks!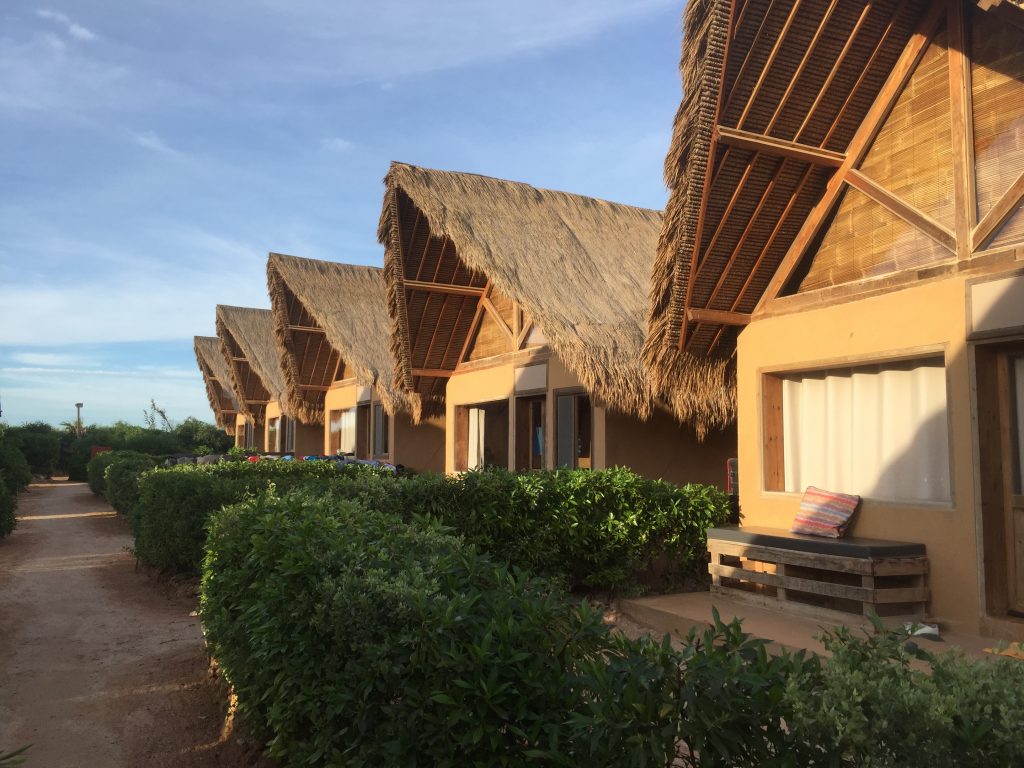 We accidentally got caught up in a last-minute political change in Morocco where it was decided two days ago that daylight saving wouldn't actually end, so the chaos for those who got things wrong thins morning is doubly off-putting because it was all totally unnecessary. Because we all rely on electronic devices to tell us what the time is, these have yet to catch up with the latest decree so it's all somewhat confusing as to what the tim actually is!
I decided that washing could wait till tomorrow and headed over to the bar for the first beer in ten days – about as welcome as the hot shower – possibly more so frankly! Since then we've had a very enjoyable few hours partaking in several beers, some illicit lunch (this is a full-board resort, but technically we didn't check in till after today's lunch service was over – honestly given how much beer we've consumed I think they are still well ahead, though they may need to get the baker busy before dinner).
I suspect that the staff at the resort don't quite know what's hit them – they have almost certainly already sold the entire months quota of beer and it's only 1600 on the first day we're in – they're doing their best, but are already starting to look a little frayed around the edges – dinner tonight will be interesting when 60 hungry riders and crew descend on the buffet!
Now for the long wait – the resort are on a much more human timeframe than us so dinner isn't till 2000, significantly later than the 1800 ish that we're used to!
Later: Dinner was worth the wait – an interesting mix of Moroccan dishes and salads, with dessert to finish. WE even had a bottle of local wine which wasn't exactly spectacular, but was certainly drinkable.
Its now made it al the way to 2145 so is well past the bedtime of TDA riders, myself included, so I'll post this and call it a night!
View from my 'tent'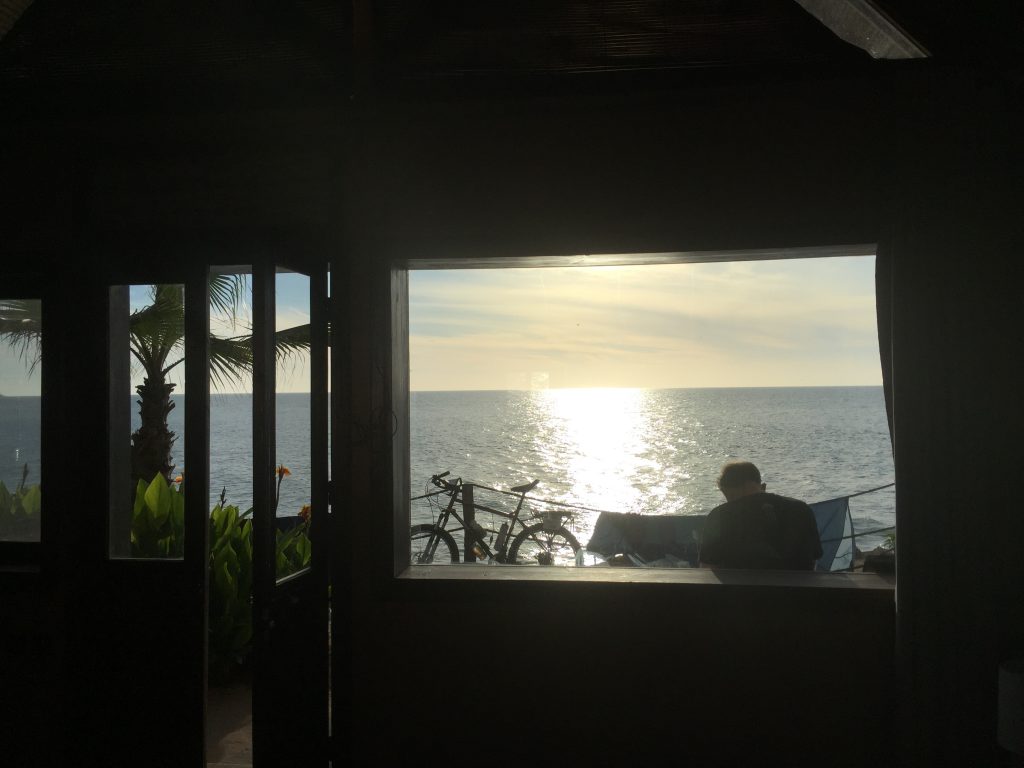 Selfie of the day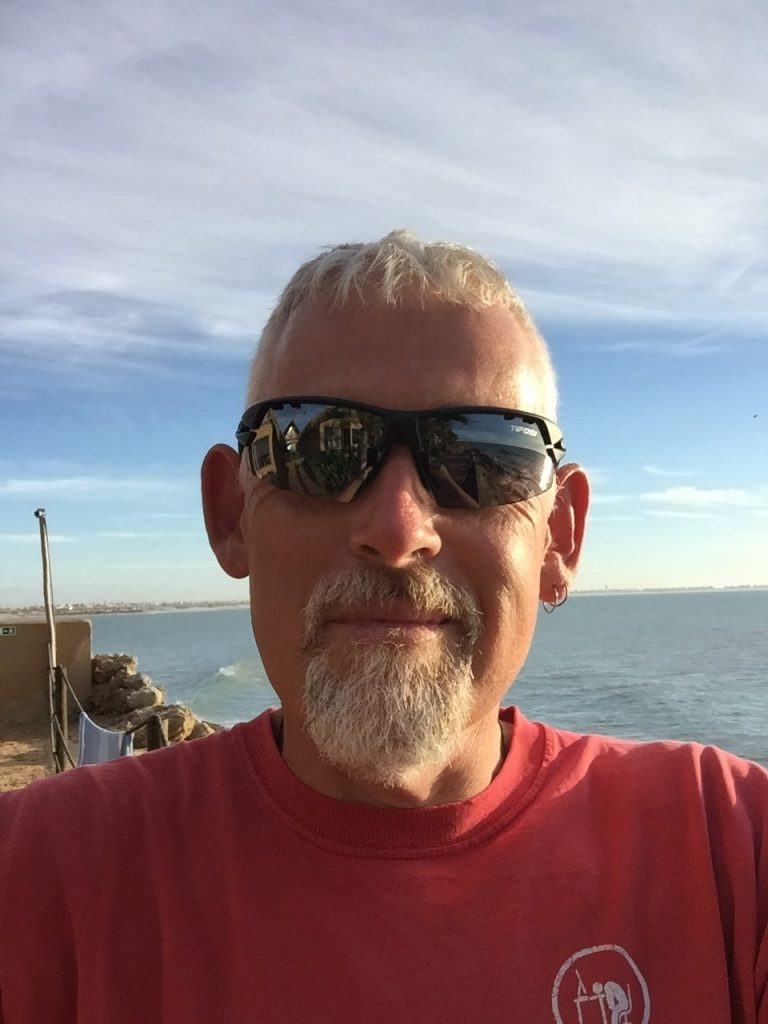 Riding data