It rained off-and-on overnight, and the wind has continued to blow in the 'right' direction – long may that continue! (Not the rain – that can go, but the winds from the north can definitely stay).
After a slow start I hung my washing up then wandered back to town for some breakfast – I'd been intending to go back to my original destination of last night, but again other riders suggested 'next door' so roti with honey in and coffee were todays breakfast!
I stopped in at Cafe Nour for another coffee and to sit on the sidewalk, watch the world go by, and finish up some recent days blog posts – I've been doing the writing part as much as possible each day, but the uploading, riding data, photos etc take too much power for the limited amount of sunlight we have for charging things on this trip.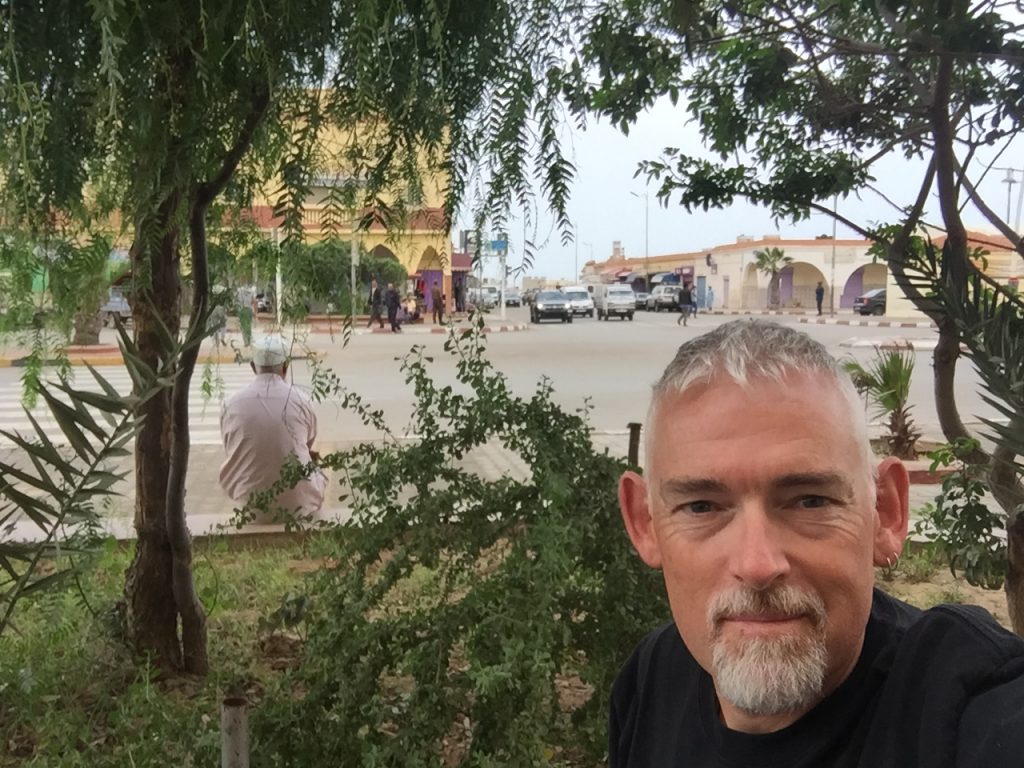 Just as I was getting to the point where I needed the route data off my Garmin for the post I was working on it started to spit again, and knowing that my washing would now be dry I beat a hasty retreat to the campsite to get it in before it got too wet. In the end the rain didn't come to much, but better safe than a bag full of wet washing.
Since I'm hanging out in camp – let's be honest there's not really much else to do here – I'm not complaining you understand, doing a whole lot of not very much is awesome for today – let me introduce you to the dinner truck – also referred to as the mothership:
Also buried away are 800 litres of diesel and 1000 litres of water. The dinner truck usually also tows a trailer which contains a further 1000 litres of water and additional camping equipment.
Between cooking, dishes, and general consumption we need about 800 litres of water per day which is what makes the trailer so important – the dinner truck needs to get to the campsite and get prepared as soon as possible, while the Hilux Sharita drives can take the trailer to the nearest source of water to bring into camp when needed.
This week has been one of those weeks where TDA haven't quite done what they say we must do – we're always being told to be prepared for anything and not to rely on the weather, yet this week they relied on the fact that when they did the scouting there was "a fantastic tail wind, so we scheduled some longer days to get the distance done"… hmmm…. same story we heard from Andreas about the three days of pain getting across the Gobi desert!
You'll be pleased to know that despite the tough riding week my butt is in better condition now than it was at the start – lots of chamois cream applied two or three times a day, then cleaned off throughly at the end of each day seems to be doing the trick – I'm hopeful that by the end of the coming week everything will be in 'top working order' below!
There's been something of a cold going round the group – one of our number Michel hasn't ridden for five days, Mimi had a day and a half off, Swend has pushed on, but not been very well either. This afternoon I'm feeling somewhat run down – coughing a bit and with something of a headache so I'm going to try taking a nap and see if that helps improve things!
Later: Well that didn't work – it was way too hot in my tent with the doors closed and way too noisy with them flapping in the wind when open, so I'm now sitting in the camp office with a number of other riders where it's relatively cool and we have the convenience of electricity, relatively comfortable chairs, and WiFi!
Given that we've now done 11 stages I figured it was time for some stats, so we've:
completed 11 stages for 21% of the total 53 stages
covered 1,429km for 22% of the expected 6,395km
climbed 7,607m and descended 7,576m
I've spent 60 hours, 59 minutes riding at an average of 5:32 riding per stage, with the longest stage at 7:05 and the shortest at 3:41
Looking ahead things seem like this nice short coming week should be pretty good fun too, here's the high level plan: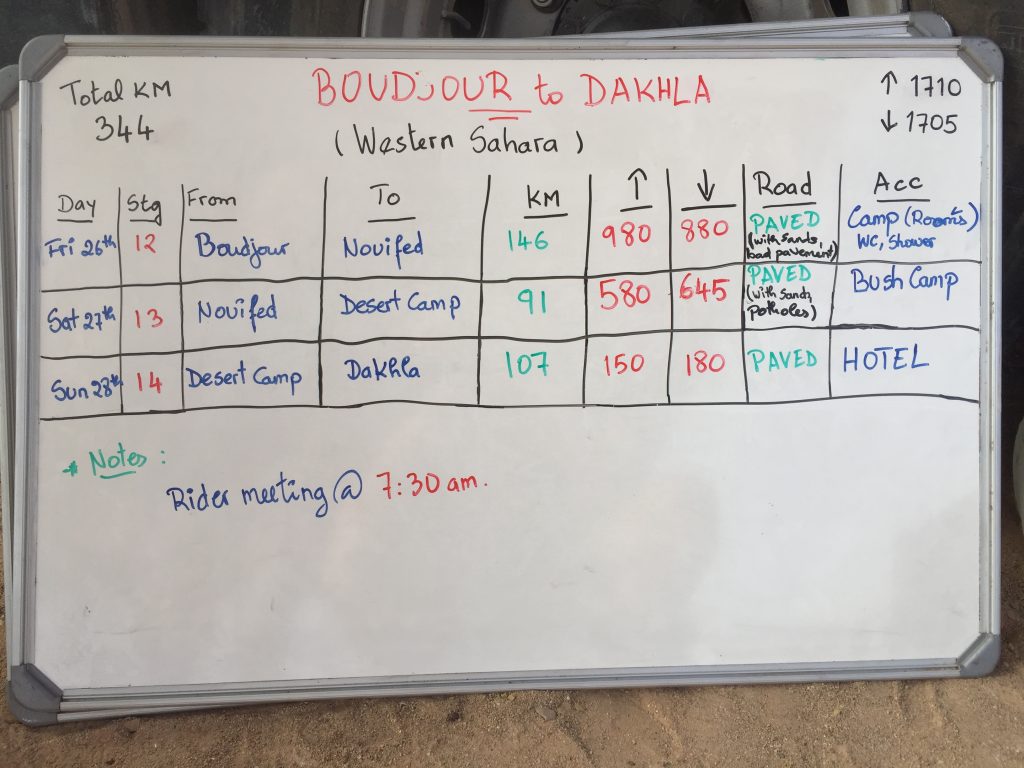 As a bonus we get a proper campsite tomorrow night complete with showers, and the short week ends in a hotel – to really add icing to that cake the weather forecast for here says:

While for Dakhla, which you can see is where we're head it's much the same:

The thundursrtoms tomorrow could be a bit of a drag, and rough pavement isn't necessarily fun, but the winds from the NNE are absolutely perfect when you're heading south-south-west – fast riding and fun times!
Colleen's just returned from picking up the last of the supples for the week which includes the breasts of 25 chickens – apparently the butcher just about died of fright when they went in earlier this morning to ask if this was possible – it seems these were clucking round some pen a couple of hours ago and are now butchered and in the truck freezer!
Later still: It got really cold in the wind earlier so I repaired to my tent and did some sorting out for the week to come including packing the clean washing away and returning permanent bag things to their rightful homes.
I also spent an hour or so reading up o the rest of Western Sahara and Mauritania in the Lonely Planets – not terribly much to report, other than the fact that Nouakchott, the capital of Mauritania, is one of the most modern cities in West Africa – though it did make it sound a bit like Ashgabat in Turkmenistan – a great big new city with nobody in it – time will tell I guess!
I've just returned from dinner – I'd heard tell of a pizza place, and having seen few other options other than returning to the same place as I'd already had two meals out I figured I'd try that – turned out I was the last of 11 riders to dine there!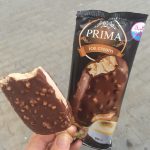 Clive had also discovered that the photo processing shop by the new park sold ice-cream – go figure – but it was too much temptation not to stop in for one on the way back to camp, and amazingly it even looks mostly like the photo (unlike lots of those on the Silk Route).
I also took a photo of the butchers-shop-come-restaurant which was open for the dinner trade – I get that you can guarantee that the meat is fresh if it goes from the butcher at one end of the store to 'over the coals' at the other, but I think I'd find it somewhat off-putting to be sitting there eating next to the rest of the carcass! (You might need to click the photo to open it in a new tab to really see what I'm talking about).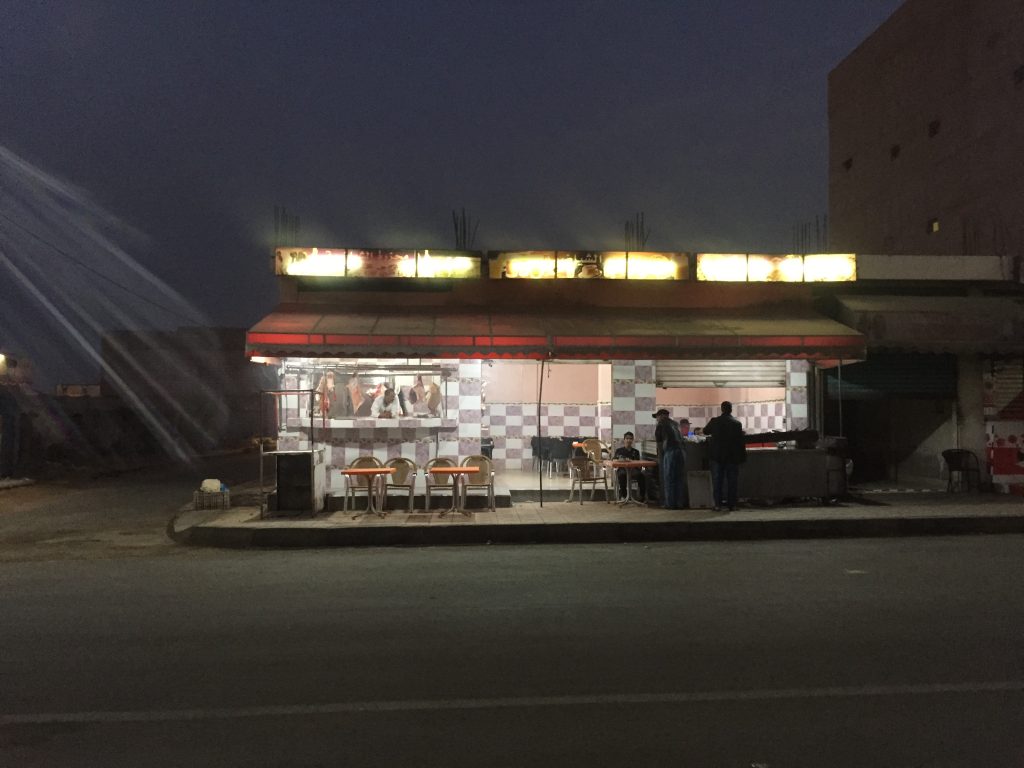 I've just loaded my permanent bag into the truck to save one job in the morning – I'd usually have put my multi-board in there too, but with the convenience of power in my tent tonight, the talk of an organised camp tomorrow night and a short week there's room in my daily bag!
If you're a Dutch speaker you could check out Paul's blog, or if you're an Instagram user, consider following Trixie who's a much better photographer than I am for alternative views on our trip.
And on that note – bonne nuit!