WP GPX Maps Error: File /var/www/ride.bluecrocodile.co.nz/releases/20160107204732/web/app/uploads/gpx/activity_3117411507.gpx not found!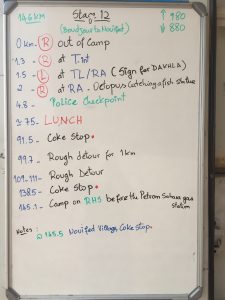 The wind continued to blow through the night and was making my tent creak rather a lot, but I managed to sleep through most of it. A shower around 0600 had me a little worried that I might be packing a wet tent, but it didn't come to much and in the wind it was soon dry.
On the great-news front the forecast seems to be true and the wind is still from the NNE so a good day of riding should be ahead!
Later breakfast time, then a riding meeting meant that it was actually light when we were eating breakfast which made a nice change.
Kevin, Kevin, Mateo and I set off together and given the lack of highlights for the day we stopped at the 'octopus eating a fish' sculpture on the way out of town – it's as bad as it sounds like it would be!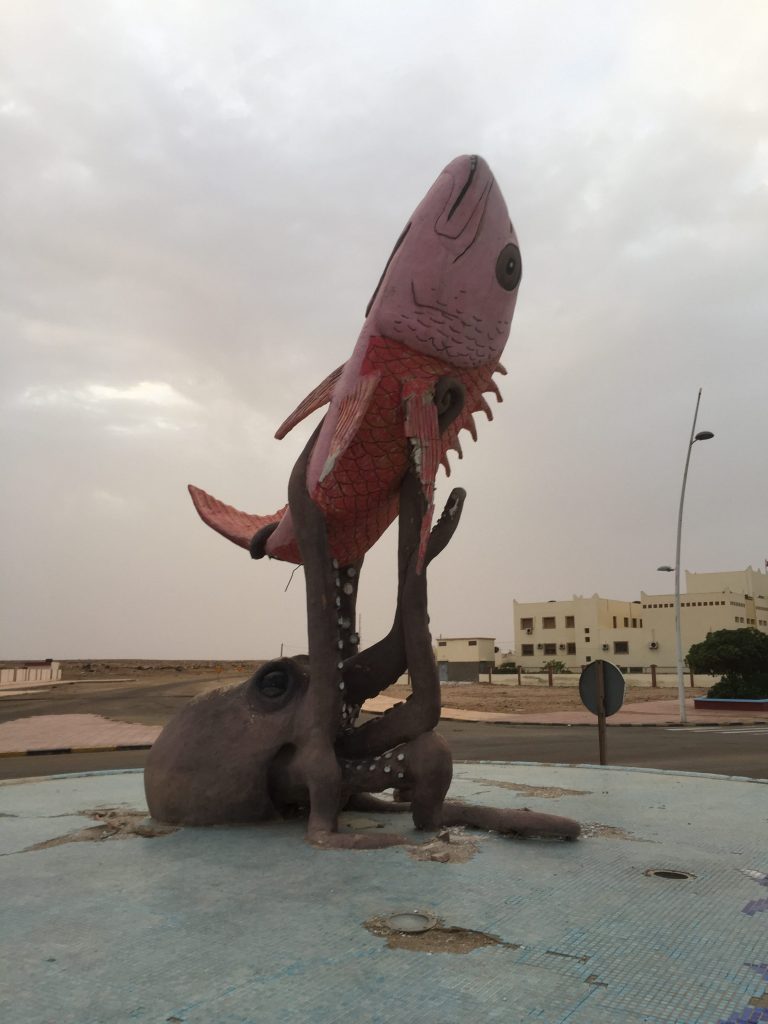 We took a break at 40km for a pee and a banana during which Dave and Mimi came past – we caught up with them shortly after and initially they sat at the back of our group, but then began to join in our rotation as well. A little while later we also caught Italo who jumped on the back of our train into lunch.
It was such a fast day that lunch was busiest I've ever seen it, with more and more people coming in while we were there, to the point there were 25 of us at lunch by the time we were ready to go.
Just as we were about to leave lunch a couple of UN trucks went by, so there must still be issues about, but other than those and regular soldiers along the side of the road there's no obvious signs of trouble.
The afternoon didn't quite go by as quickly as the morning did thanks to lots of road works – this morning we were riding on new road, but this afternoon we caught up with the construction, so lots of rough detours made for slower sections.
Uncharacteristically for this tour we've also had lots of problems with dogs chasing us today. They're a lot more timid than Mongolian dogs thankfully, so a quick squirt with a water bottle is usually enough to put them off! At one point some soldiers in a van had stopped near three dogs and were throwing rocks at the dogs to keep them from chasing us – not so nice for the dogs, but great for us!
We stopped at the coke stop at 138.5km, but we think they last had electricity there in about 1978 so there were no cold drinks, and with two giant puddles of stinking water outside we didn't linger.
A nice descent, then a couple more detours and we could see camp towards the cliff, and the coke stop ahead – we decided that coke needed to come first. Having discussed the absence of Pepsi brand drinks on the way into Boujdour, surprise, surprise, that was all this service station has.
Backtracking 400m into the wind and we were wondering how we'd managed the 160km the other day.
Into camp and the usual activities – tent up, out of riding kit, clean as its possible to get with 1.5l of water (and blowing dust), some soup, and some writing.
Sadly we didn't quite manage a 30km/h average for the day, coming just short at 29.7km/h mostly due to the roadworks in the afternoon which kept pushing us off the tarmac and onto rough gravel, but hey-ho still a great day!
Later in the afternoon there was the treasure hunt for the missing padlock which had fallen from the Hilux when they were collecting rocks to secure the sunshades – such are the fun times we have in camp on a windy afternoon!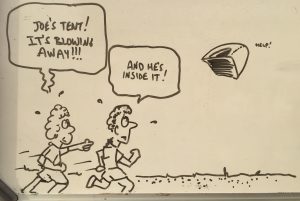 To add to the excitement I've just had to chase down Joe's tent as it was blowing across the rocks and sand – luckily for him it was heading away from the cliff edge so I was able to catch it. Unfortunately the tumbling over the rocks has left many small scuff marks in the fly which means it's not going to be terribly waterproof any longer. Seemingly six pegs weren't enough! Apparently Davey has a video of the action which I'll try and upload another day.
As is my want I put my tent up pretty well away from other campers, thinking if nothing else it makes going for a pee in the night easier, but not tonight. We've usually had a couple of police turn up at each camp, but tonight we seem to be surrounded – at last count there were nine of them!
Dinner was the first BBQ we've had on this tour and rather than the chicken which Mark used to do on the Silk Route tonight was cow, and rather tasty it was too!
Though it's only 1930 the sun has vanished behind the clouds as it sets, and the wind still blows, which means it's getting pretty chilly so I'm going to publish this and go and hide in my tent!
View from my tent
Selfie of the day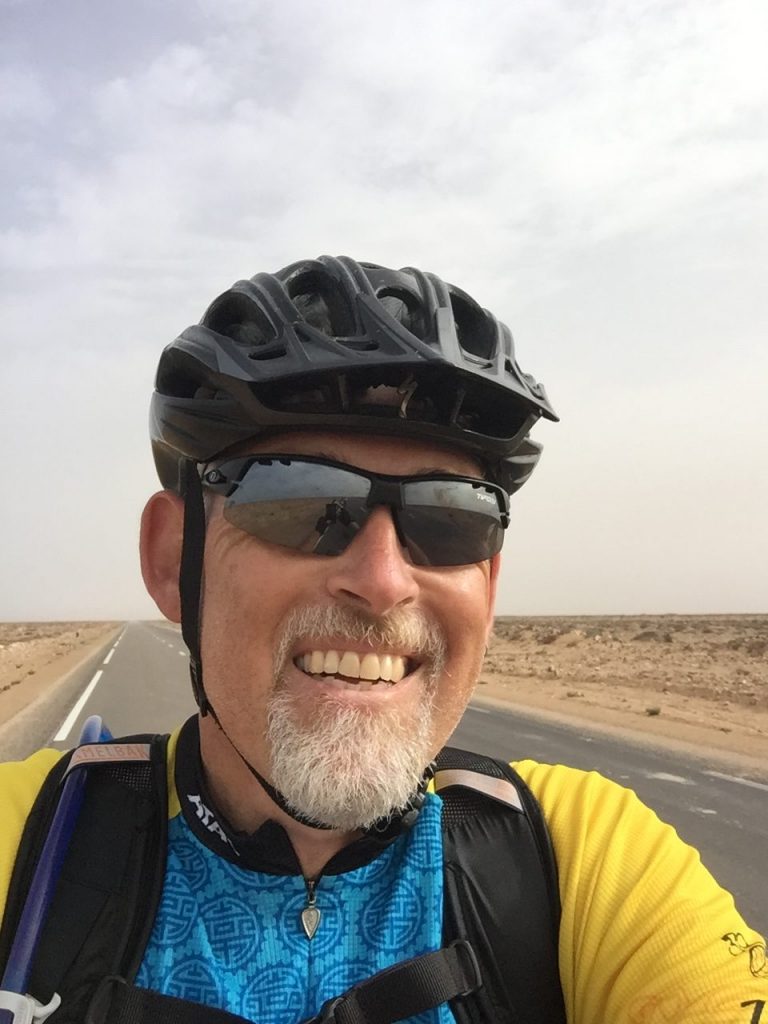 Riding data