WP GPX Maps Error: File /var/www/ride.bluecrocodile.co.nz/releases/20160107204732/web/app/uploads/gpx/activity_3114855849.gpx not found!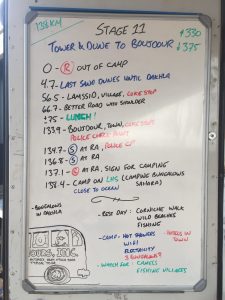 It happened! Once again the wind turned 180 degrees overnight only this time that was great news because it meant the wind would be behind us!
The four of us (Kevin, Kevin, Mateo (Kevin) and I (Steve Kevin)`) set off together again, passing a few other riders as we got into the rhythm of things. We picked up Dan, usually one of the slower riders as we passed him and he joined in to give us a team of five rolling forwards. The aim was 'around 24 km/h', and we were comfortably making that.
We took a break around 40km, then got back on the road. A short while later a large group being lead by Ken and Rod came past us. Canadian Kevin decided that was a challenge and it was time to get moving so we pushed the pace up to around 32km/h which meant that in pretty quick order we dropped Dan, but the four of us were soon catching the pack in front.
We sat behind them for a couple of km before pushing up to 35 km/h and rocketing past! We pulled into the coke stop at 52.6km and they rolled in a few minutes later – Rod and Ken were a bit sore about us coming past them in the way that we did, but took it all in good fun.
Swend had been expecting the people he was planning to ride with catch him by the time of the coke stop but that hadn't happened so he decided that rather than continue on his own he'd join us as we set off again.
From lunch Sophie, one of the crew on her 'flex' day asked if she could join us, and we set off again with her in our team. Depending on who was leading we continued on at 28 – 32 km/h. It's amazing how quickly that sort of speed gets the distance done!
At one stage Mateo was at the front and took off – Canadian Kevin who was right behind him took chase, and Sophie, Swend and I followed. Mateo broke off after about 500m, but Kevin continued on with Sophie and I on his tail, shortly dropping Swend as well. The three of us continued on for about 10km at +/- 42km/h. After the last few days it was great fun to be able to ride comfortably at that sort of pace!
We slowed, then stopped to regroup with the others we'd been with, then continued on at a more moderate, though still pretty quick pace – the moving average for the day ending up at 30.7 km/h!
Continuing on we were soon coming in to Boujdour, our rest-day destination. Moroccan towns seem to have a thing for huge concrete (often irrelevant) animals at their entrance – Boujdour is no different.
We stopped at a bakery on the way through town to the campground. A number of riders have headed to hotels in town (which I heard later aren't great), while some have taken the cabins and bungalows at the campground. Once again I'm in my tent which I've pitched right beside a power box so I have the convenience of charging facilities in my tent – hoorah!
After getting my tent up, showered, shaved, laundry in, I took a wander in to town – I'd be tempted to say this is something of a 'one-horse' town at the end of the earth, but
I took a wander round the extents of town and there's really not that much to see – a lot of small shops which all seem to sell the same random mix of pretty much everything – it's definitely seen better days that's for sure!
Back to camp and I got one blog post almost done before it was time for dinner. Just as I was about to set off the heavens opened so I waited out a short but intense shower chatting to Adam before heading off once the rain passed. Apparently we should feel blessed that it has rained for us in the desert – I'm not so sure – it always seems to rain when I go to deserts!
I'd seen a place in my wanderings that looked promising for dinner, but when I got there another group of riders were there, and had been waiting a long time for their food and suggested that 'the place next door' where other riders was would be a better choice.
The other riders turned out to be Jacquie, Erwin and Paul (all ex Silk Route) and Henry (the owner of TDA). Jacquie said it was one of the best meals she'd had in a long time, which makes for an excellent recommendation – it was simple, a vegetable soup with pasta, beans, lentils etc and a flat bread off the grill very like a roti, with rather a lot of oil and beautiful crisp layers of pastry. A perfect dinner for the end of a long week of cycling.
Probably the most amazing thing about dinner was the price – 10 MAD, which is less than £1 for both! Robert (another ex SR rider) also joined us – he got there just in time as another even more intense rain shower passed over!
I've wandered back to my tent and completed the blog post I was working on earlier in the day – I'd intended to finish another too, but tiredness has overtaken me and it's not going to happen!
Two other riders Dave and Mimi have a Facebook blog with their version of the trip which you might be interested in.
View from my tent
Selfie of the day
Riding data