WP GPX Maps Error: File /var/www/ride.bluecrocodile.co.nz/releases/20160107204732/web/app/uploads/gpx/activity_3220242495.gpx not found!
One of the worst nights sleep in a long time – just was I was going to sleep I woke with a start and realised I was going to throw up, the only thing I had control over was getting out of my tent before it happened. Luckily I was successful!
Then the noise continued all night, if it wasn't the generator it was the bar, if it wasn't the bar it was the industry, if it wasn't that it was the party across the valley with the most over-amplified and worst-sounding music you could imagine.
Thankfully by the morning I was feeling generally ok, though rather hungry and tired – many others were pretty tired too, and just as we were eating breakfast the party ended and the music stopped.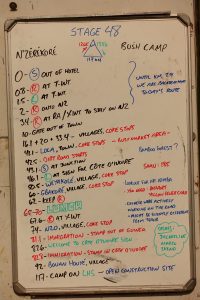 Out on the road and the first forty kilometres were on pretty reasonable pavement which helped to get the distance done. For a while I was riding mostly on my own and passed David and Eleanor while they were stopped for a pee, but they soon caught me again, at about the same time Canadian Kevin caught us all.
It was great fun sitting behind them – David's such a strong cyclists and a large man so having him at the front really keeps things moving along, though interestingly I was able to overtake on the descents – I guess it's the difference between my cross bike and their mountain bikes.
Kevin and I stopped for a photo opportunity at the sign directing us to either Cote d'Ivoire or Liberia – we chose Cote d'Ivoire and then once out of the town stopped for out morning tea banana – stopping in the town is fine if they have drinks (they didn't) but if there's no reason to stop then we don't need to be stared at any more.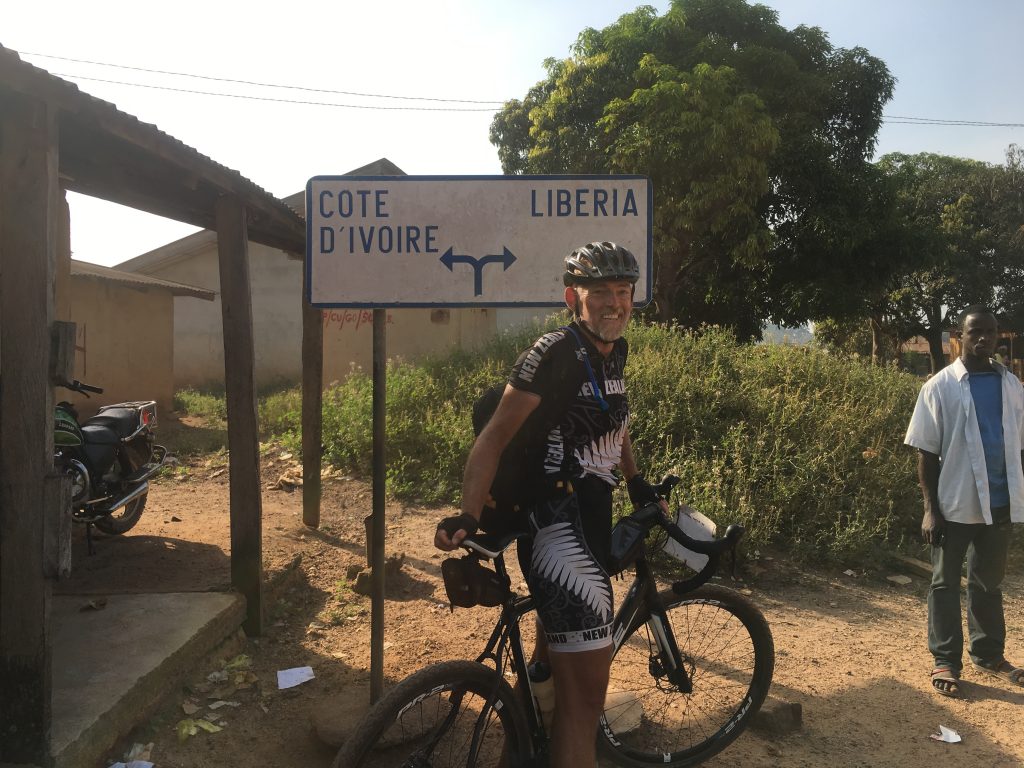 From there the gravel started an initially it was a really well made and maintained road which made progress good – the real draw back was the dust – the road's a work in progress so there are lots of trucks as well as the usual mix of over-loaded cars, vans and scooters, all of which throw up huge clouds of red dust.
We came off the new road for a while to make our way through a huge bamboo forest which was cool in both senses of the word!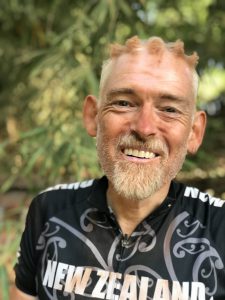 Just as we were about to get back out of the forest and on to the construction we got to the lunch stop where Eleanor took the photo of me with my red highlights thanks to all the dust – most of the rest of me was also beginning to be covered in a generous layer of dust, which with all the sweat was gradually turning to mud in places!
Kevin and I set off from lunch together getting back on the good road for a while before we came off the end of the active construction and back on to the old road, which in places had been ripped up ready for the new road to come through – the worst time to be riding on construction because the flow of the old road, and the shade of the jungle have gone, but the new road has yet to arrive.
In to the Guinea border exit just as a couple of the riders who had come only from lunch were leaving and we got ourselves stamped out and bid farewell to Hassan. I'm not sure how much use he's been as local support, but if nothing else he's been good fun with his larger-than-life personality – he even rates a mention in the Lonely Planet for West Africa which has this to say about him
A one man trekking, entertainment and host show Hassan Bah has been leading tours for years and nobody who has the good fortuned to come into contact with him regrets the encounter.

West Africa Lonely Planet, page 224
It was only a couple of km to the Cote d'Ivoire crossing so we set of with Mateo joining us – he'd only ridden from lunch and we'd caught up with him just as we were about to leave Guinea. David and Eleanor also came through at the same time and we were all at the last checkpoint to leave Guinea which a fight broke out between someone trying to enter the country and the soldiers at the post.
Granted the solider was being something of a dick, but honestly – don't start a fight with a soldier at the border, you're going to lose, and sure enough several of his friends piled in and the guy was duly dispatched back the way he'd come!
Our passports were checked one last time – absolutely no idea what for, since all the guy seemed to do was stare at the photo page, but hey-ho, don't piss off the border guards 😉
Crossing in to Cote d'Ivoire was super simple – passports were stamped, visas glanced at, temperature taken, details recorded in the big book of foreigners and it was all done! The best news was that Dehon had spoken with the commander at border and they weren't interested in searching bags or vehicles so we didn't have to wait for the dinner truck – result!
There was a small store at the border with cool drinks so we took advantage of that before Kevin and I set off again. The road was in worse condition in CI than it had been, with bits of it half-built and half ripped up making progress pretty slow, particularly given that it was starting to get pretty hot by then.
After about 20km we saw David and Eleanor stopped in the shade with a group of attendant children looking on, so also took a break in the shade, though a little further up so we didn't have the audience 😉
About 10km from camp I'd got somewhat ahead of Kevin and managed to catch David and Eleanor, and even more amazing given the road condition (they are super-good mountain bikers riding super-good mountain bikes) I was able to stick with them through to camp.
We're more-or-less in the same place as planned, though reasonably well away from the excavators and dump trucks which are using what used to be a hill to provide fill for the road construction.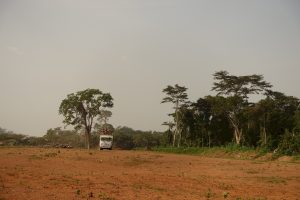 As expected the trucks were finding the road much tougher going than we were and in the end we were there for over two hours and more than half the riders were also in before the dinner truck appeared over the brow of the hill.
Three riders, including Australian Kevin had missed the flagging and gone on, so Max had to go and hunt them down!
I'd filled both my water bottles and my camelbak at lunch, and though I'd pretty much drunk my camelbak dry the bottles were still mostly full, and well warmed by the sun so I used some of the waiting time to get as much of the dirt off as I could – I don't think my New Zealand riding shirt will ever come clean again – all the white bits are an interesting red colour now! The same can be said for Australian Kevin's hair – he looks like one of those vain Indian men who uses henna to colour their greys!
Camp eventually got set up and we were able to get tents up and ourselves somewhat cleaner, but honestly two litres of water in a bucket doesn't have the sort of impact you'd like.
Max has had to head off to Man to figure out the route and exactly where we're staying – plan A had been at an hotel, however that has changed hands in the last couple of months and they're now less keen on us camping there – plan B is to stay at a Catholic centre on the edge of the city, but it seems there are issues with that too, so he and Henry have gone to see what they can sort!
The usual riders meeting (though without any instructions because we don't know where we're going), dinner, some chat and it was time for bed in a thankfully very quite location well away from anyone and everyone!
View from my tent
Selfie of the day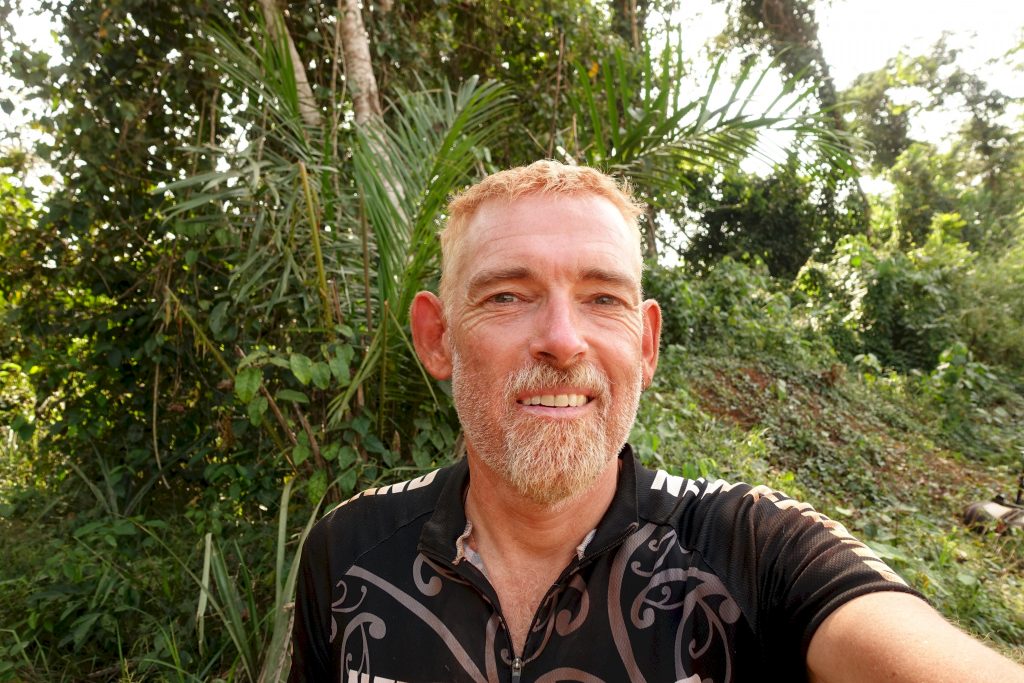 Riding data