WP GPX Maps Error: File /var/www/ride.bluecrocodile.co.nz/releases/20160107204732/web/app/uploads/gpx/activity_3220042844.gpx not found!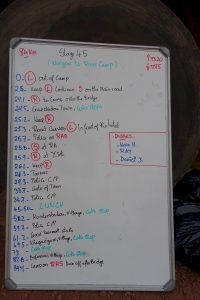 Unlike yesterday which went entirely to plan, just on a very long timeframe, today didn't really work out on any scale other than everyone ended up in the right place!
At riders' meeting last night Max had said that the road was paved from km 23, which didn't marry up with the details on the weekly board, but it was a welcome improvement. This morning that had been downgraded to, there was some pavement at km 23, but then it was construction on and off from there to km 61. Not such great news, but not the end of the world.
Setting off and the gravel was great fun for bikes – the same sort of nice flowing undulations as we'd had yesterday, with enough climbing to keep it interesting, and enough descent to keep it fun.
I caught the lunch truck very quickly, passing them at just over 5km – not a great sign! It also appeared that someone had been sick given that Phillipa was carrying some tissues in a 'this has disgusting inside it' way and suggesting to me that I pass on the other side of the van.
I also passed Max not long after that which was even worse news because he was the back-up lunch plan, particularly given that while the road was great fun for us, it was clearly getting worse for vehicles the further we went.
We hit some construction at around 20km, but they weren't making a lot of progress by the looks of things and I was soon into Gueckedou where there was indeed a small amount of sealed road.
I spotted a service station – the best chance we have of electricity and therefore refrigeration and cold drinks, since pumping fuel needs power! My luck was in, and they even had pineapple Fanta (which is vastly nicer than 'original' Fanata) so I opted for that an a tonic. A number of other riders joined me.
Setting off again and it seems that this stretch is currently under the opposite of construction – there was a paved road here at one stage, but it's long-since fallen apart and in many places had the seal graded off the top – very reminiscent (and not in a good way) of riding in Kazakhstan!
Compared to the actual gravel road that we'd been on before the town, this was a serious downgrade, significantly harder work and way less fun! It was also much busier with far more trucks and cars going at break-neck (or at least suspension) speeds – my closest call of the day came at the hands of a UNHCR truck which came by alarmingly close given how fast they were going!
I'd figured that the best strategy was to ride to the beginning of the lunch 'window', find a tree, wait for Max or the lunch truck to pass, and then follow them to wherever lunch was going to be. Others concluded this was a good approach and I was progressively joined by more and more riders – some of whom passed by, others of whom sat under my tree with me.
After an hour and a half (!!!!) Julian arrived and said that they had passed the lunch truck 5km before town, and Max not long after, so chances were they were still quite a way off. At that point I decided I'd eat my packed sandwich and call it quits – even once the truck gets to its spot, lunch takes at least 45 minutes to be ready and it was better to get back on the road before it got any hotter!
Pär had Max's local number so Canadian Kevin sent him a text to let him know who was going to be ahead, and we set off again – something of a wasted hour and a half really! It makes me wonder how on earth the next border crossing day is supposed to work given that there's 75km of gravel, 40km of tar and a border crossing that day!
Many of us stopped at the next town which surprisingly, but enjoyably had cold beverages, though not much by way of food! It also had a lot of very loud and rather aggressive children who were trying to hit us as we rode past, so I didn't linger beyond getting a drink and adding some cold water packets to my camelbak.
Several hills later and I finally got to the pavement – a very welcome relief after the last 45km of very unpleasant conditions. With 8km to go Errol and Colleen came past – the first crew I'd seen all day, but at least it meant that there was going to be something at camp when I got there!
I stopped at the coke stop just before camp and had a drink but sadly it wasn't really even cool.
Up the last hill and across the river to camp – it could have been a great spot, but a request got lost in translation – some local people had been paid to clear the site for us, unfortunately they'd done it by chopping all the scrub down, then setting fire to it! So recently that when David and Eleanor had got to camp it had still be alight – they're now busy clearing other areas to give us somewhere we can actually camp!
Somewhat surprisingly Sharita and the dinner truck also here – some long hours of night-time bush bashing through Liberia and they had made it through with only a few battle scars (Sharita's words :-).
Between the two trucks there was some lunch available – pre-made sandwiches, bread, fruit, and as soon as she could manage it some soup as well!
From there we settled in for the long wait for the other trucks to arrive. Others came in and eventually the baggage truck arrived and we were able to get our tents up and out of our riding gear which after the second 10 hour day in damp sweaty clothing was a real relief!
Some enterprising ladies saw a business opportunity and set themselves up washing bikes for 10k – the equivalent of €1 which included the effort it took to get the water up form the river to camp – an absolute bargain from our perspective and a good money-earner from theirs!
We'd all been trying to find as much shade as we could, but in the end that didn't prove necessary. As soon as the sun was gone the temperature began to drop, and with it the dew, so flies were hastily added to tents before things got too damp inside.
Riders' meeting and dinner at 1800 tonight, so closer to 'on time' but still somewhat later to allow for the trials and tribulations of the day.
By the time I was heading for bed it was clear that it was going to get pretty chilly over night, so I pulled out my sleeping bag for the first time in many weeks!
View from my tent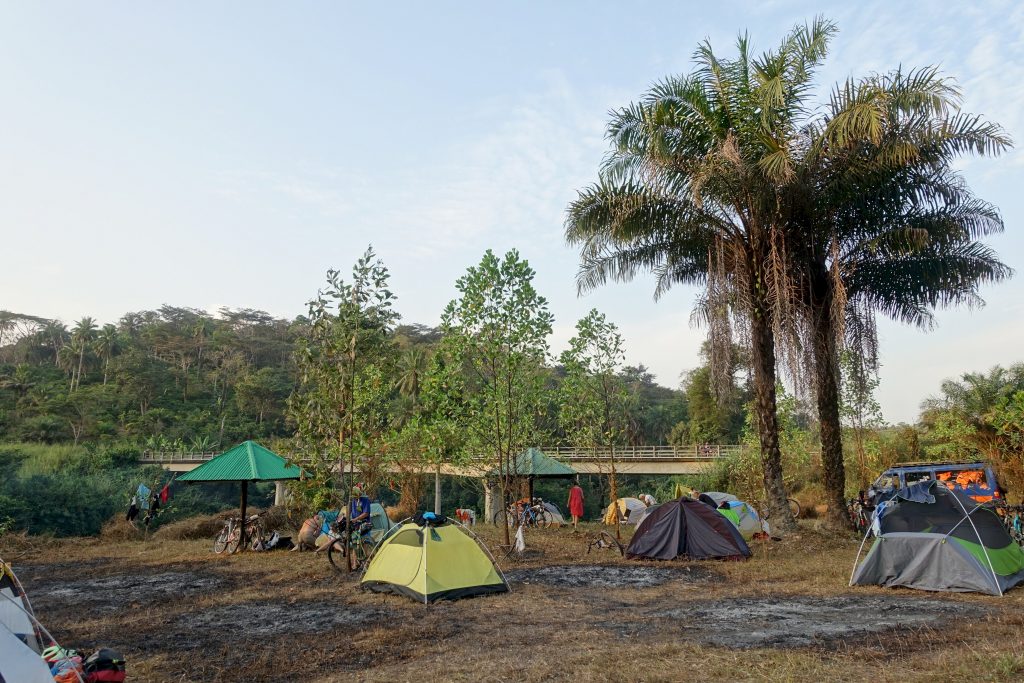 Selfie of the day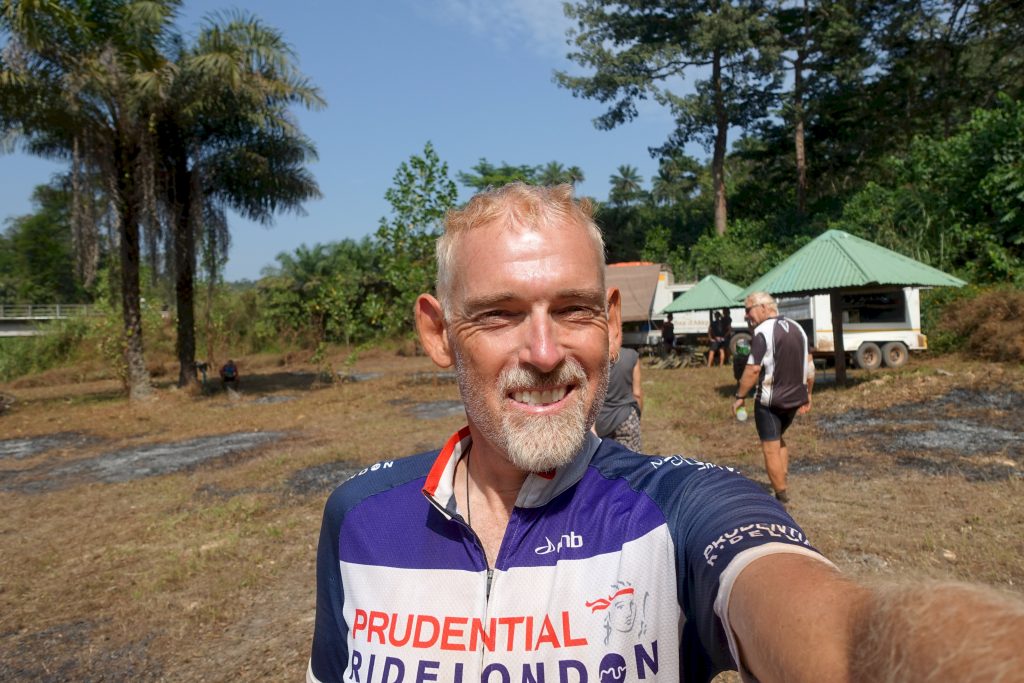 Riding data