WP GPX Maps Error: File /var/www/ride.bluecrocodile.co.nz/releases/20160107204732/web/app/uploads/gpx/activity_3220242020.gpx not found!
Wow was I glad I had my sleeping bag last night. It was nine degrees in my tent this morning – possibly the coldest night of the tour, or at least very close! The dew was also amazing – over night it sounded like it was raining with all the dew falling in the forest above and behind our tents.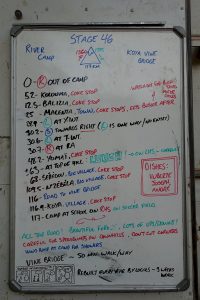 Out on the road and it was still super fresh, just on 10 degrees as we set off – I had my LGCC shirt on which was fine on the climbs, but didn't do much to keep me warm on the descents.
Through the morning and it was a continuation of yesterday with multiple undulations nothing too steep, nothing too long, and generally kept things rolling along nicely.
The best of it was that it was mostly through virgin jungle, so was pretty spectacular to look at.
There was one single big climb for the day where we switched valleys – nothing massive, and it wasn't as sustained as it seemed like it was going to be, so it wasn't long before I was pulling in to lunch at the top. Well – almost the top! It was about 250m from the top.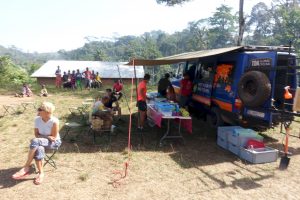 Canadian Kevin and I had been riding together off-and-on during the morning, but he decided a short lunch break was in order and set off again pretty swiftly, where-as I was interested in a more leisurely break.
The dinner truck came in while I was there and disgorged nine people for the dog box – a mix of tired, sick, and those who want an extra rest day tomorrow and are going to take a taxi from camp this afternoon.
The initial descent was great fun and more than paid for the climb on the other side with some nice long descents – the only drawback are the speed bumps in the villages!
I stopped for an afternoon banana along the way and nearing camp I pulled in to a coke stop which initially looked promising – a brand new fridge stocked with all sorts of beverages, including beer (traveller for camp I thought), but upon opening it I discovered it wasn't running, and was the same temperature as the room it was in – doh!
Although I was in to camp in time to join the 1300 trip to the bridge (particularly when it got rescheduled to 1330) it would have been a rush, so I opted for the 1500 tour – not only did that give time to get organised, but it also meant that it would hopefully be somewhat cooler.
All the usual afternoon activities plus hunting my permanent bag out to find some proper shoes, and then sooner than I'd expected it was time to head off – not quite as cool as I'd hoped but at least we were going to be in the jungle for much of the way.
We passed the earlier group heading out and they assured us it was worth the walk, and just at the point that it seemed this was going to be another Tiwai Island 50 minutes, we arrived – and it was indeed worth the effort.
As you can see it's a pretty impressive structure – look closely in some of those photos from the side and you can see MJ crossing which helps give a sense of the scale – and consequently well worth the effort to get there.
As is often the case the walk back didn't seem to take as long. We'd set off at different times and as I cam back past where a group of locals were threshing rice Natalie was in there 'helping'.
Riders' meeting and it's a pretty quick affair – Max announcing that there really isn't any catch to tomorrow – it really is only 50km, there really is 500m of up and 500m of down, and it really is paved the whole way.
Initially the day after was supposed to be a rest day, and tonight's camp was scheduled to allow us to visit the vine bridge. For a number of reasons the rest day was moved to Man, but by then it was too difficult to move round the stage distances so an easy day it will be.
It's cooling down nicely again tonight so I'm glad that I'm under a tree so hopefully my tent won't be so wet in the morning.
View from my tent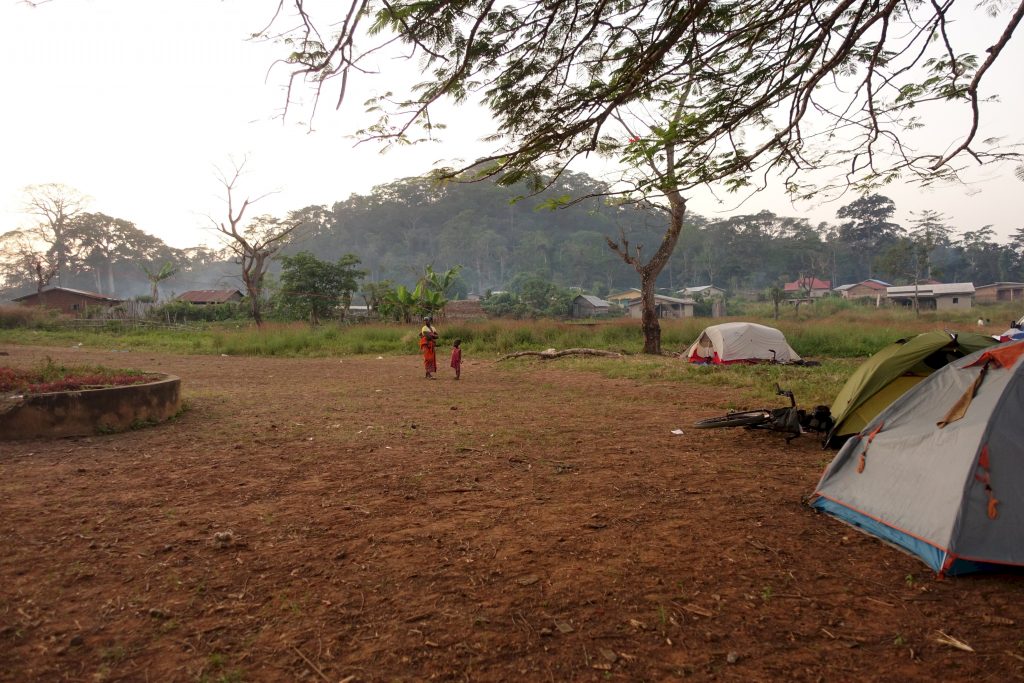 Selfie of the day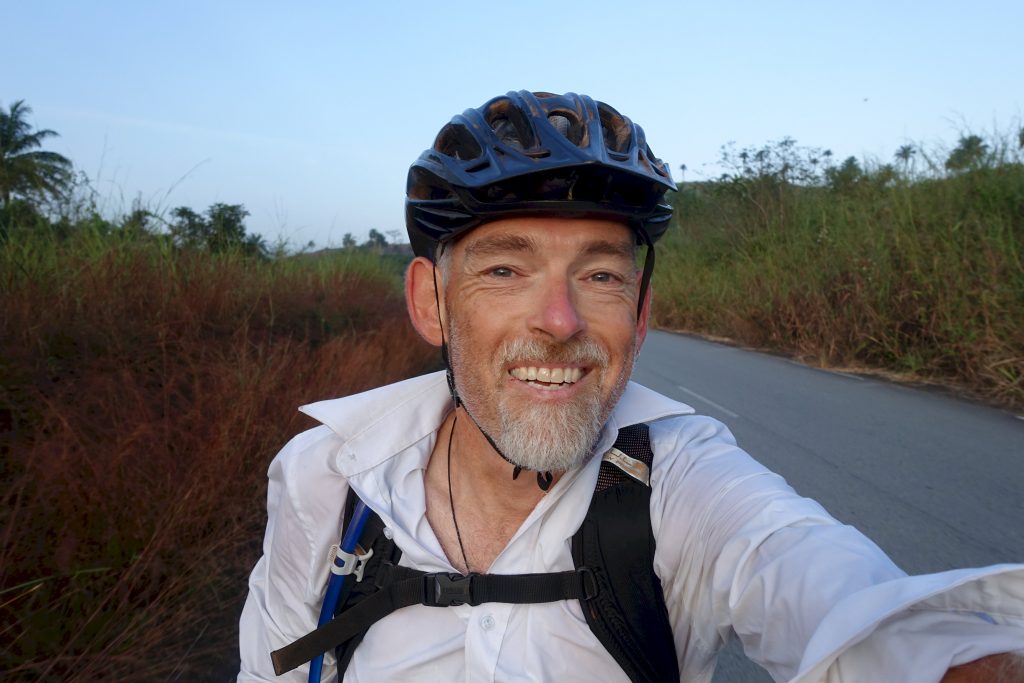 Riding data