WP GPX Maps Error: File /var/www/ride.bluecrocodile.co.nz/releases/20160107204732/web/app/uploads/gpx/activity_3154445972.gpx not found!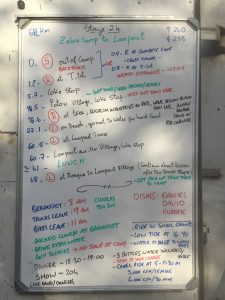 It was such a treat to wake up with the sun, particularly since sun rise isn't till around 0700.
Tent down, bag packed and loaded, breakfast and now the long wait. Low tide's not till 1640 and it's only about an hour and a half to get to the start of the beach ride so there's no urgency to leave at all.
The trucks have a lot further to go to get 'round' so they're leaving at 0900 to give them a good chance to beat us there. We're also staying at an organised campsite tonight which is 3km into the desert on very soft sand, so both us and our bags have to be ferried in there by the camp vehicles so they need time to get that process started as well.
Thankfully this camp is really nice, and has a cafe / bar area with tables and shade so hanging our here isn't really a hardship.
A number of riders set off sooner than advised – some like Peter because he's refusing to ride on the beach and is making his own way via the road – a significantly longer journey, and if the roads at the end of yesterday are anything to go by it's likely to be harder work too, others because they ride quite slowly and want the extra time to get to the beach.
We departed just after 1100 with most of the other riders and took the 'back track' option – getting wet to our waist in order to save 1.2km didn't seem it was worth it at all.
Lots of dust and soft sand meant we were working hard as we made our way towards Potou village. We hit a section of construction which improved things, and then several kilometres of brand new pavement. We were working into a head wind for much of the time as well, Mateo, Canadian Kevin and I had got ahead so were rotating through the front position.
As we were coming past Dean I was leading and called out to him to jump on the back and get some shelter from the wind. As we came past Mateo, who was behind me and has a sore neck, turned to look at Dean but somehow managed to clip my rear wheel with his front and went down.
I managed to avoid coming off by moving left, Kevin and Dean were also able to avoid hitting him too. Thankfully no serious injuries, just some bumps and grazes, and no damage to his bike, so we scooped him up, took a break, and then continued on again.
A couple of ks later the new pavement ran out and it was back to super-soft sand which continued through to Potou and the right turn toward the beach. Potou is a pretty rough-and-ready town, with dust, sand and rubbish everywhere!
Mateo and I had got ahead of the Kevins on the soft sand, and while we waited Doug and photographer Daniel added some dressings to the larger of Mateo's grazes to try and keep the dust and crap out of the grazes. Neither of them arrived – it seems they were hanging out at a coke stop at the start of town, so we continued on.
Nearly at the beach we found another coke stop and had another cold drink – we'd made the trip there much quicker than necessary, so still had lots of time to fill in so there was no hurry. As often happens we attracted a large group of children, simply by being there. They didn't speak a lot of French, other than the ability to ask us for 'un cadeau' (a gift). We turn it round and reply 'vous as un cadeau pour moi?' (you have a gift for me?) which rather confuses them!
While we were there Mimi and Dave joined us, with Dave managing to snap a photo of Mateo and I and the gaggle of kids.
We got down to the beach to discover most other riders under a tree waiting – Max had water and bananas for us, as well as the packed lunch we'd brought from camp, so we were pretty well cared for under our tree.
Max went to check the state of the tide and returned to say 'at least another half hour', so we settled in for the wait.
Around 1330, which should have been about mid-tide Max said he was going to set off, and that we could follow when we were ready. Everyone collected up their bikes and bits and pieces and set off to walk the 500m across the super-soft sand to the water – when we got there we found locals in the process of launching a fishing boat.

Daniel and a couple of riders approached to try to get better photos, but the fishermen weren't happy about that, so we backed away and left them to it.
Now that we were all on the sand, nobody seemed inclined to actually start riding, so I set off to lead the way – it was insanely hard going! We'd started too early and so to find even half-firm sand we needed to be basically in the waves which meant we were constantly getting caught in them.
On the one hand that was nice and cool, but on the other it meant you got bogged down in the wet sand, and sand and grit got washed into brakes and chain which made things harder still.
I took a break after about 1km at which point Australian Kevin and Mateo caught up with me – they both have huge tyres on (compared to mine) so though they were finding it hard going, it was definitely easier for them. We carried on and spread out again, before stopping about 3km in – at that point I was managing about 12 – 14 km/h so it was going to be a long day at that rate.
This stop I decided to lower the pressure in my tyres – I had no gauge so simply let them down as far as I dared (it turned out that was seriously low – I'd only left about 1.5bar in there). This proved to be the best move I made all day – as soon as I set off again the riding was easier and my speed jumped to around 18 km/h for less effort!
Over the next 30 min as the tide receded the riding got easier, the waves were catching me less often and I soon left other riders behind as I was able to make progress at 22 – 24 km/h a significant improvement from when we set out.
The only problem now was that I was riding in the heat of the day – the temperature was well into the 40s, and for the riding day averaged 38.3 degrees. I'd started out with two full water bottles, and my camelbac, which holds 3 litres also full, but was getting through liquids pretty quickly.
I passed Jacquie, Erwin and Paul's bikes parked above the tide line but there was no sign of them – I presumed they were up in the trees at the top of the beach getting some shade while they took a break.
By around 50km I was almost out of water when Sharita came up behind me so I gave the 'thumbs down' so she would stop. By then Essen had been displaced from the cab and was riding on the tailgate of the truck because there were already three riders (the maximum number of bikes they can carry on each Hilux) swept off the beach.
I refilled all my bottles, adding electrolyte tablets to those – partially because I needed the salts, partially to mask the disgusting taste of the tank water, and also refilled my camelbac – I could tell I was dehydrated, so although I only had about 10km of beach riding to lunch I wanted as much liquid with me as possible.
They left me to it, and I continued on, only to be met by Max heading back to collect other riders a couple of kms later – he was offering watermelon and drinks, but having just filled up I declined and let him head back to support and collect other riders.
I'd almost made it off the beach when at km 57 my left hamstring cramped – badly! There was nothing for it but to stop and I don't know if you've ever tried, but getting off a bike with a cramped hamstring is difficult, and painful!
I drank another bottle of electrolytes and did some stretching during which time Rod caught up with me. He couldn't do anything to help directly, but having him stop and chat for a few minutes helped me to relax. He set off while I drank some more water before continuing on.
Thankfully I didn't have any further problems, and a short while later I could see the tower at Lampoul which was the marker to show where to come off the beach. Lezinda was out on the beach making sure none of us missed the turning.
Lunch was tucked in to the shade of a building above the beach and I was extremely glad to be there and have the beach riding done for the day – I was hot, tired and dehydrated! I sat for a while drinking and eating while other riders came in, all feeling much the same – glad that bit of the day was over!
Over lunch we discussed the fact that we're supposed to ride another 80km on the beach tomorrow. That would probably be possible but we need to do that during the two – three hours either side of low tide. But to do that we'd have to set off either at 0330 or 1530, ride for 5 to 6 hours finishing at either 0930 or 2130. If I had to chose I'd take the morning option to avoid the heat of the afternoon riding, but it still means riding around three hours in the dark, and with limited moon right now that doesn't really seem viable!
I'm pretty confused as to how this could have been got so wrong – I was really looking forward to these stages and riding on the beach – I did it a number of times in Latvia and had really enjoyed the experience, but it was crucial that we were doing it with a mid to late morning low tide. Tides are so predictable, and the whole timing of the tour had to be dictated by the tide for these stages. Maybe next time!
From lunch it was 7km of reasonable road up to the village where the trucks were, and where we were leaving our bikes. I set off on my own and was riding pretty slowly, it was still super hot and uphill as well.
The crew had found a tap in the village we were to leave our bikes which was great because it gave us a chance to get all the sand and salt off our bikes – by now it was pretty obvious that a 'Plan B' was needed for tomorrow and that we were done with beach riding so I took care to get all the sand and salt off my chain and cassette.
After a bit of a wait for other riders to get in we piled on to the back of the camp truck to be transferred to 'home' for the night. One of the camp staff rode on the back of the truck and I tried to snap a photo of him – he looked like he came directly form the set of the Blues Brothers
The camp we're staying at is pretty nice and it's a shame we've got in so late and so tired that we can't really enjoy being here – we're in large tents of four, each of which has a shower and toilet attached, as well as four beds.
After a shower I was chatting with Hubert, who had chosen not to ride at all today and apparently they had had a pretty long day getting there in the trucks too, having left at 0900 they didn't get to the town where the trucks are until 1330 after a hot, bumpy and uncomfortable ride!
Riders' meeting was supposed to be at 1800, but by then only about half of us had made it to camp, so that got pushed back to 0600 tomorrow morning, and dinner to 1930 tonight.
Happily beer was an option, so as well as two more bottles of water I had a couple of those while we sat chatting and waiting for dinner.
Because this is an organised camp they were providing dinner which was great because it meant we got to have local food which included a fantastic soup, salad, couscous, tagine vegetables, grilled chicken, and even dessert!
After dinner the camp lit a bonfire and had a small group doing a drumming show – I made a video in which you can see very little, other than the fire, but you can hear what's going on.
Chatting with Doug on my way to our tent just after 2100, and they'd heard from Sharita and Errol who are out scouting a new route for tomorrow – they're at around 60km and only about half way to tomorrow night's camp – it's going to be a late night for them!
We're all now in bed and feeling very weary – Kevin summed it up well – it feels like we were riding up hill for 40km! Tomorrow's going to be an interesting day 🙂
View from my tent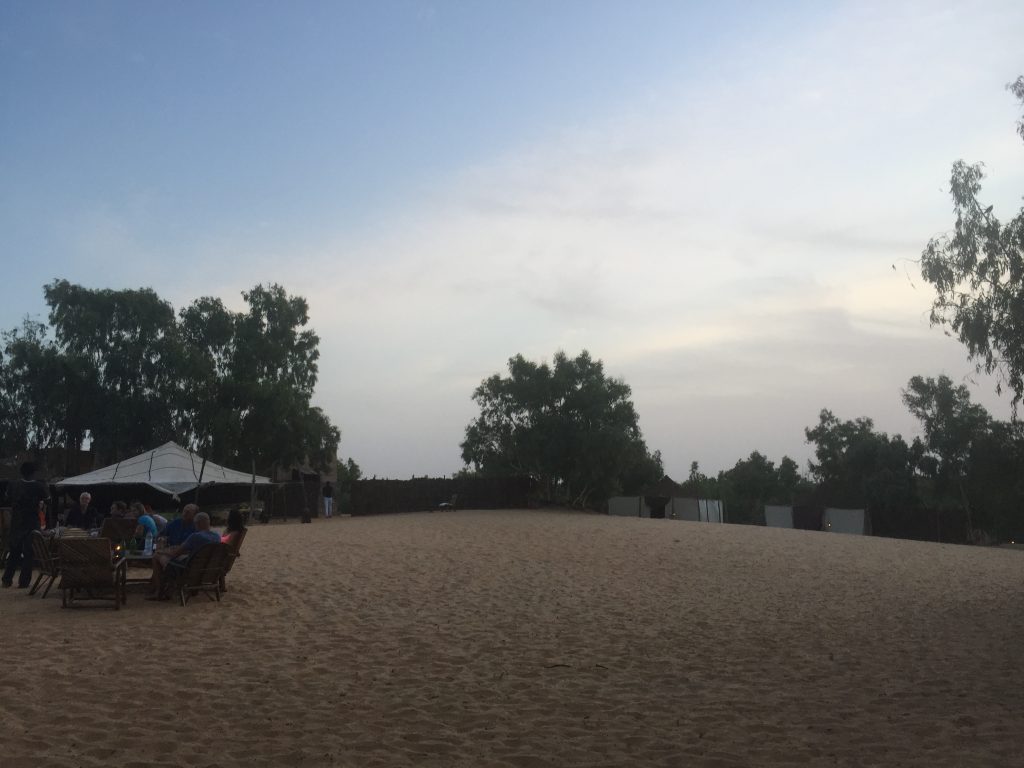 Selfie of the day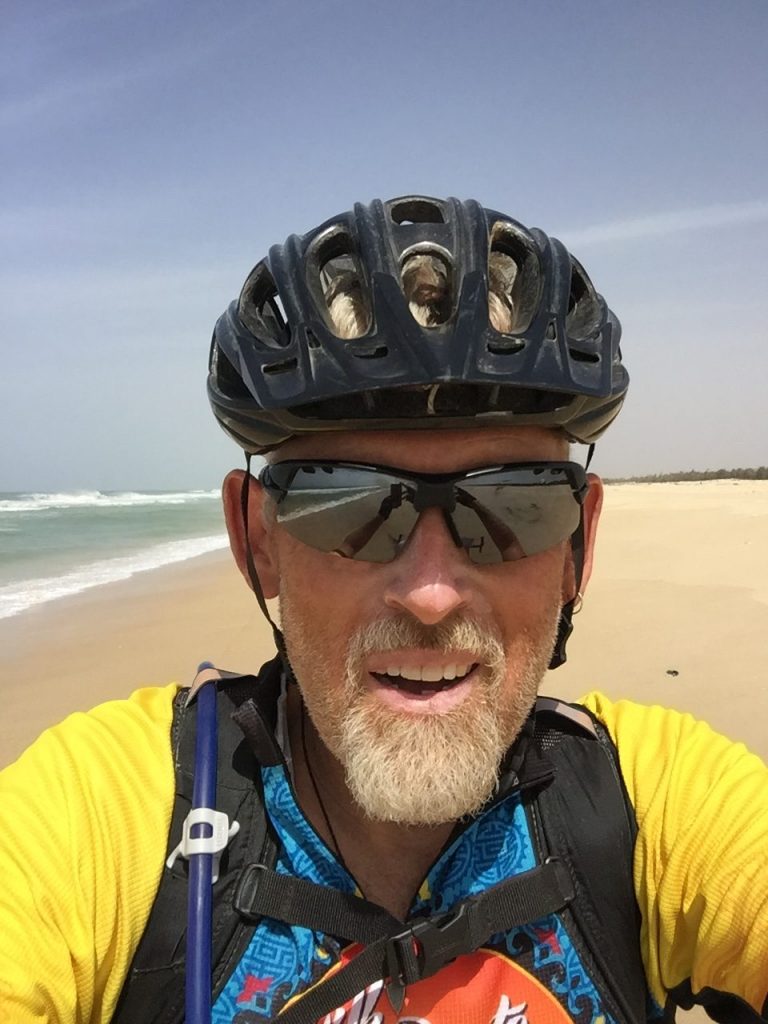 Riding data