I slept so well last night – I was in bed by 2030 and asleep about 1 min later I think . A quick trip out at 0230, and the next thing I knew someone nearby was packing up their tent and it was nearly 0630. Maybe it was the sound of the ocean below camp that helped me sleep so well.
Whilst waiting for breakfast I'd told Max that I was going to go down to the beach to see the stone arch which had been mentioned yesterday, and that because it was reasonably close the sweep would probably get past me, but not to worry, I'd soon catch up.
For some reason Max has it in his head that my name's Kevin – given that there are already two other Kevins we probably don't need any more! As an aside there are two Steve's as well – the 'other' Steve was referred to as Steve 2.0 on the Silk Route as he joined part way through – on this trip apparently he's 'Professor Steve', which given that he is a (retired) professor makes sense, and I'm 'Gramin Steve' because I have helped a number of riders having troubles with maps and gpx files (If you're interested this is what gpx files are).
Anyway, during breakfast Max announces 'Kevin's already told me he's going to go to the beach, is anyone else going' – there were a lot of positive responses, so Sophie, the morning sweep also gets to go, like it or not 😉
I'm liking that we're getting porridge for breakfast each morning – the weather's not overly cold, but it's cool, and as far as camp breakfasts go that's by far my favourite!
I made good time to the top of the beach road and headed on down – Max wasn't kidding when he said it was steep. Onto the beach and it was pretty misty, but I could make out what I thought was the arch at the left hand end of the beach. It was low tide, so there was plenty of hard-packed sand so I concluded that riding was the quickest way to get there.
I was a little underwhelmed by the arch, but given I'm never likely to be back this way again, and it's considered a local attraction, it was work the detour.
Just as I got back up onto the road Sophie and Hubbert arrived – Hubbert was going on, but Sophie asked if there were others down at the beach – by my count there were at least 10, so she decided she may as well head down there as sit at the side of the road and wait!
By the time I'd gone down to the beach, along to the arch and back again I'd done 4.5km so needed to add that to all of the instructions for the day, making camp at 101.5km. I carried on passing a number of other riders along the way.
There had been talk before rider's meeting yesterday about the town of Sidi Ifni having been a Spanish enclave (like Queta in the north) until 1967 – there's no obvious evidence of that any longer (no bull-ring, no sides of hammon in the butchers shop (as if in a Muslim country 😉 and just as many mosques as any other town we've passed through.
Clearly I wasn't paying enough attention during the rider's briefing last night, as it was in the back of my head that the 100m over 2km climb was the bulk of the climbing today – that would be no! And it was more like 20m over 1km and 80m over the next km for around 8% which over that sort of distance gets to be tough going!
I powered up there ok, despite the grade and a lack of gears compared to some of my colleagues I overtook spinning there way up on granny rings, but then we kept on climbing, and climbing, and climbing. An inspection of the route on my phone reminded me of something that Max had said – the highest point was at 52km (which adjusted to 56.5 because of my beach detour) which was still a ways to go – oh well, keep climbing!
Nearing the top and I got a phone call form the lettings agency in Andover, could we come in soon to sign the lease extension… ummm… not in my case, see you Christmas day, maybe try ringing Adam!
There's lots of construction all along this road, and the staff are a mix of incredulous and encouraging as we pass! Down the other side and the wind wasn't entirely cooperative coming more from the side than anything, but I was soon rolling into lunch.
As I was about to take the right in the town of Guelmim I noticed (Australian) Kevin waiting at the corner – looking beyond him I could see (Canadian) Kevin and Mateo, who as he's taken to riding with the (actual) Kevins, is also being referred to as Kevin heading back towards us having missed the turn.
We rode together for about 15km, but as happened on the last occasion when I rode with them I couldn't figure out their 'system' – they seem to be able to make it work within themselves, but as an 'outsider' I never knew when it was my turn to go to the front, and when. In the end I let them drop me and continued on my own – much simpler that way, I always know whose turn it is at the front then.
I'd noticed yesterday that there were often three languages on many of the signs – particularly on government type buildings. Arabic and French I recognised, but the third I didn't – apparently it's Berber – passing a large billboard for the oasis we're going to be staying at I also stopped to take a photographic sample.
Turning off the main road we've come up a pretty rough track to a spot near an oasis where we're camping – there must be a spring slightly further up hill which feeds down to a small village through a series of concrete channels – we're set up under a small cluster of palm trees so have the advantage of shade and running water.
TDA had a flag made which they were putting out at the end of each stage – much as happened on the Silk Route it got stolen within a few days. Now we have Jarid to welcome us to camp – he was supposed to be the lunch truck mascot but has been upgraded!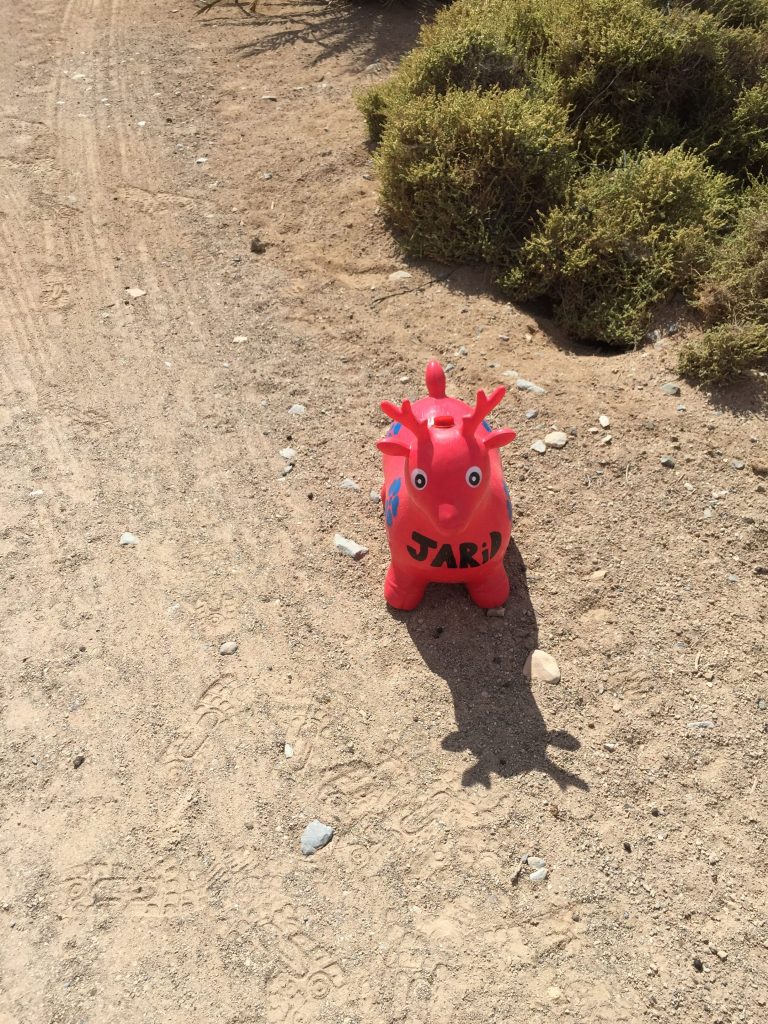 I've done the usual afternoon things, solar panels out, tent up, had a wash, and thanks to running water been able to wash out my clothing as well. A couple of cups of soup, some blog writing, an on-camera chat with Essen for her documentary. Apparently she's nearly finished the first of her videos and there's some slow-motion footage of me to be included – look forward to seeing that!
Now it's the wait for dinner and I'm feeling pretty weary – someone summed up today rather well – "for a short day that felt long"
View (from) of my tent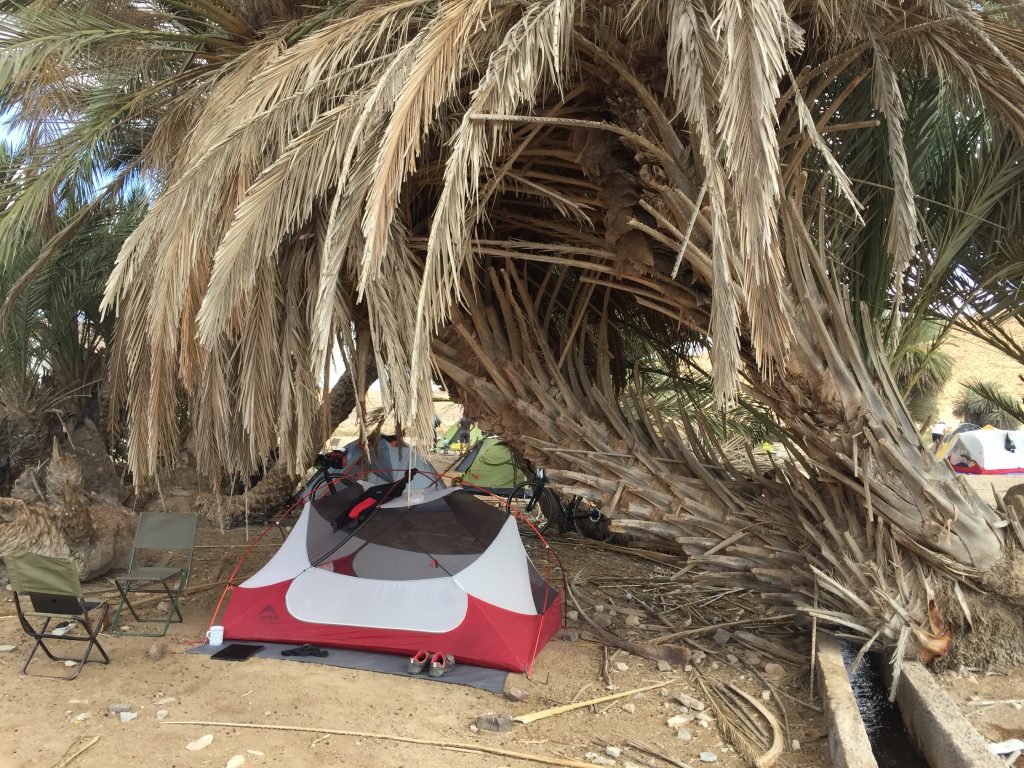 Tonight it won't be the sound of the ocean helping me sleep, but the wind in the palm tree above my tent – I hope that proves to be as relaxing!
Selfie of the day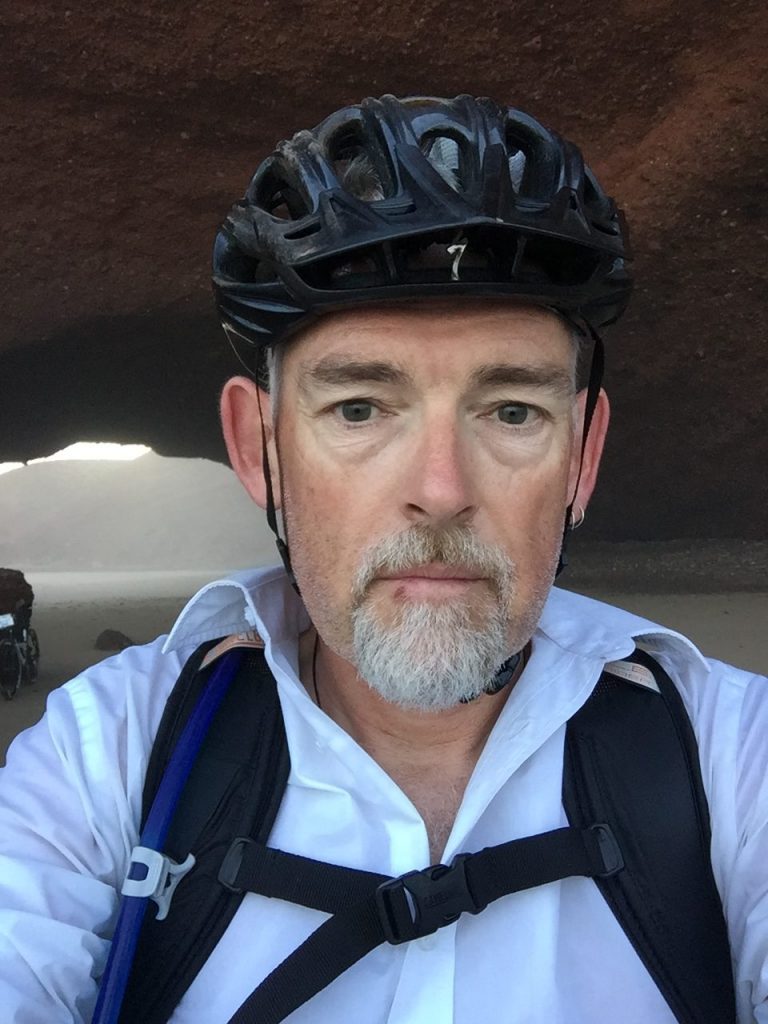 Riding data
| | | | |
| --- | --- | --- | --- |
| Total distance: | 101.81 km | Total Time: | 05:46:56 |
| Max elevation: | 540 m | Min elevation: | -7 m |
| Total climbing: | 1212 m | Total descent: | -1034 m |
| Average speed: | 17.61 km/h | Maximum speed: | 104.04 km/h |