I actually needed my sleeping bag last night and it was only 11 degrees when we set off – a significant change from what we've been having recently – don't panic Kim we head back to lower altitudes and higher temperatures and humidity before you get here!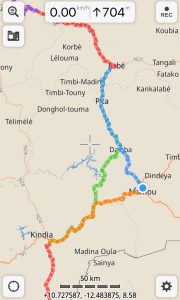 As expected the reason that we're changing the route for the next two days is because the corner-cutting we were going to do is where the gravel was. When Sharita went to check things out on the day into Labe she found that the road had feared extremely badly over the rainy season and wasn't going to passable by the vehicles.
Plan A had been to follow the blue and then green track on the map to the right with tonights camp about half way across the green corner. plan B is that we followed the entire blue route today, and will take the orange route tomorrow.
In all it's adding about 40km to these two days, but it means that there's no gravel in these two stages so time-wise ends up being about the same.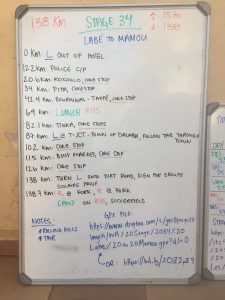 A relatively quick riders' meeting, breakfast, and we were on the road by 0710. Initially it was the Kevins and I, but as we went we both passed and collected other riders until at one stage there were seven of us in our little group.
Yesterday we'd seen one stage of the Tour de Guinea (bike race) come in to Labe and as we were heading out we were passed by a number of their support vehicles, and a bus full of riders.
I'd initially assumed that they were on their way back to where they'd come from, but in the town of Pita at km 34 it became apparent that they were heading for the start of today's stage which it transpired was following exactly the same route as us, and ending in the same town!
We wove our way round the accumulated people and vehicles and crossed the start line for the day – hopefully everyone else gets through and doesn't get too tangled up in proceedings. Hanne had her GoPro on her helmet and thinks she got footage of crossing the start which could be quite fun.
Eventually our group split up as people dropped off the back and for a while it was Kees, Paeye and I until I slowed to take a drink, get something to eat from my bag and attempt to take a photo of the countryside which did it some degree of justice. I saw them in the distance off-and-on but wasn't until lunch that I caught up with them again.
One significant advantage of the race was that the road behind us was closed which meant that there was no traffic heading our way any longer – and it must have also been closed ahead because there was very little coming our way.
The main peloton came past while I was at lunch – at that point they weren't moving that quickly, just checking out what everyone was doing – according to those who had been overtaken the strategy tended to unfold on the climbs.
Just at the end of the video you see one of the tour medics Tom come off the back – he'd been having a nice chat with the support vehicle at the back of the peloton.
We set off from lunch as a group as we often do, but Australian Kevin, Hanne and Caroline were all in need of the bushes – there was no chance at lunch we were surrounded by half the village – so stopped once we were in the countryside. Canadian Kevin and I continued on before he decided to stop and wait for the others, so I went on on my own.
Over the course of the morning we'd been undulating along but tending generally down – from lunch we had a reasonable climb back up to the town of Dalaba which was 320m higher than Labe.
Dalaba was one of the few places in Guinea which had made it into the Lonely Planet – apparently it still had interesting colonial era architecture – sadly that wasn't visible as I worked my way through the centre of town.
The elevation profile had shown a significant kick up at kilometre 90 which proved to be just after Dalaba, and it was certainly a kick – for quite a time my Garmin was showing 16% which peaked briefly at 18% – I was out of the saddle in my lowest gear at that point!
Looking back from the top of the climb gave a good view of Dalaba below – given that it's such a big town I was surprised at how many trees there are still in the town.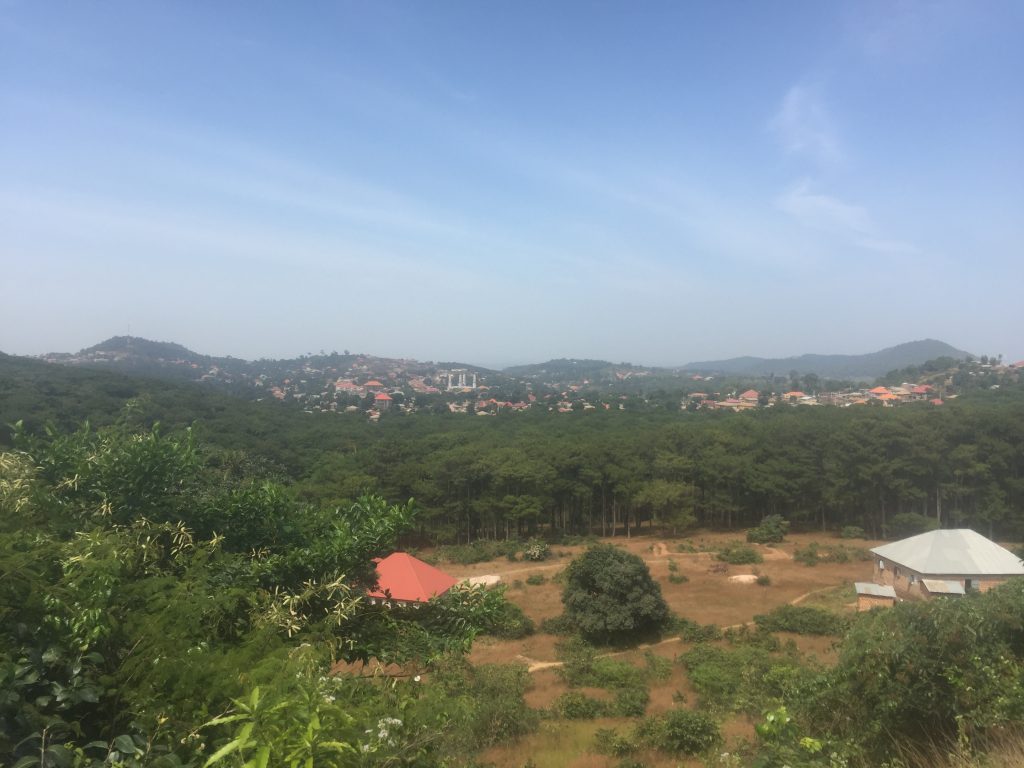 The initial descent was a bit scary – it was as steep as the climb had been and was old, rough concrete – thankfully that didn't last too long and the next 10km of descent was tremendous fun with a top speed of 62 km/h and an average in excess of 50 km/h for those 10km.
The rest of the afternoon was generally down with the odd climb here and there. It seems that that Tour de Guinea had a break at 100km, which caused a massive tailback of traffic, including the dinner truck, which I ended up in the middle of – it was all fumes and dodging potholes when they started moving again.
As I continued on towards camp I'd just finished thinking that the humidity was increasing when we came round a corner, across a bridge, and to my left were a series of rice fields – that would explain the humidity!
I stopped at a random store along the way when I saw Dominic at the side of the road – it was only 12 km to camp, but I was out of water and it was pretty warm! I left while Dominic was still there and a short time later I caught Tom – one day in five the crew have a 'flex' day which means if there's nothing specific that needs doing they can ride if they wish – Tom had taken that opportunity.
We then passed Julian at a coke stop and Ray taking a pee, so for the first time on this trip I was first in to camp, something I was pretty happy with!
Given all the hold ups the dinner truck had only just arrived and was getting itself sorted out. We had a chat with Max while waiting for things to be ready during which Max asked Tom how his day had been:
I'm pooped, luckily I had Steve to pull me the past three kilometres in to camp – I don't know how these guys do that every day!

Tom – tour medic extraordinaire
Given how young and fit Tom is that sounded like high praise to me 🙂
Overall today's been one of the best days of the tour to date – great scenery, great riding and plenty of interest along the way!
All the usual afternoon things followed – tent up, me washed, kit washed, bike checked, writing my blog under a tree with a hoard of kids watching etc, etc…
Today's Paul's birthday and he very kindly arranged for beer and wine from the hotel last night to be packed into two huge chilly bins and a TDA crate to be brought to camp today so at 1630 we were able to raise a glass to his 72 years!
We'd managed to camp pretty much all over the soccer field, so when the team arrived for training this evening things weren't quite what they expected – not only was there a huge truck in the middle of their field, there were also 45 tents all over the place and about 100 plus kids all standing round looking at the circus (us) which had come to town!
Max had a chat and they seemed to take things well, and got on with a series of drills – many of which were half dance.
Riders' meeting, dinner, more beer, some conversation, and a number of people looking to book hotels for the rest days in Freetown at the end of this week – I'd seen that the Radison was near the place we're to camp and initially it looked like i could get a room for $202 – in the end that was per night so given we are there for three nights that would be a firm No – tent for me!
Paul's generosity is such that I was able to bring a glass (plastic cup) of chilled white wine to my tent to have while I finished this post – both are now done, so good night from Guinea!
View from my tent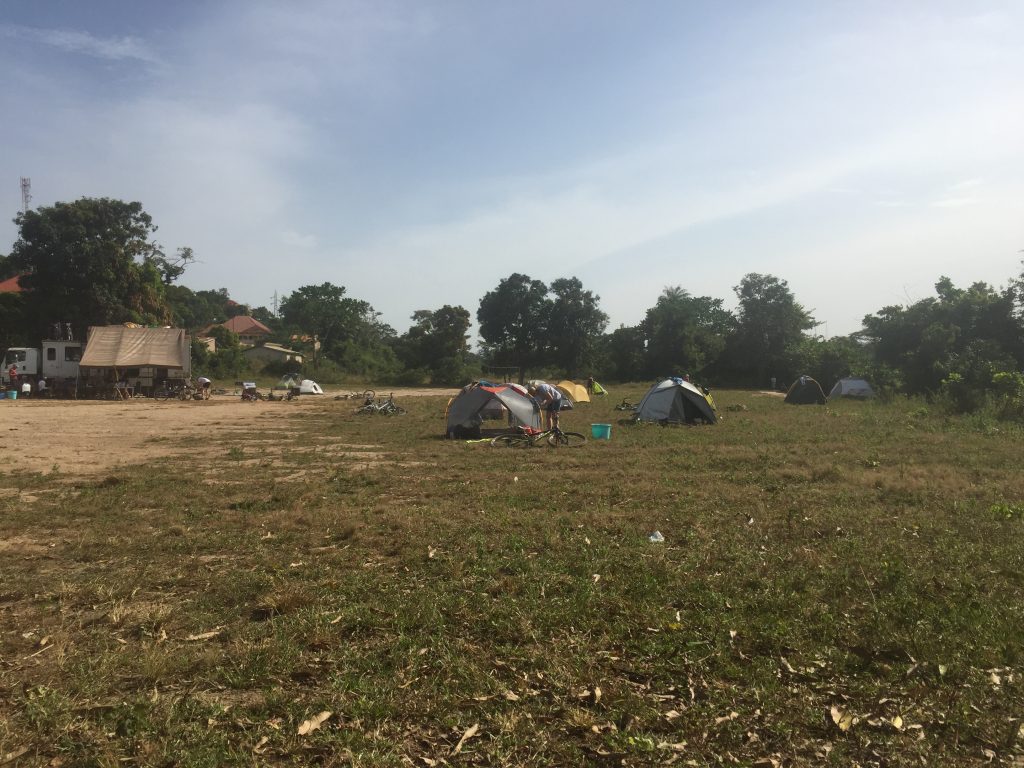 Selfie of the day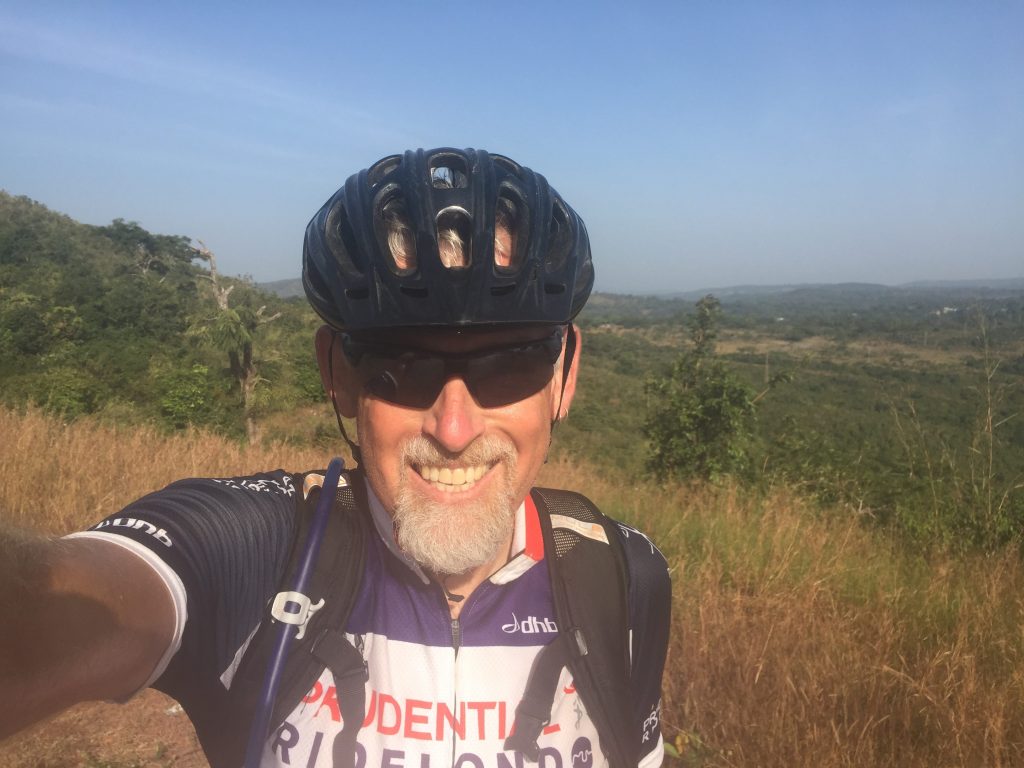 Riding data
| | | | |
| --- | --- | --- | --- |
| Total distance: | 139.25 km | Total Time: | 06:08:37 |
| Max elevation: | 1340 m | Min elevation: | 750 m |
| Total climbing: | 1372 m | Total descent: | -1645 m |
| Average speed: | 22.67 km/h | Maximum speed: | 110.16 km/h |