We've had three full rest days here in Dakar as well as most of the day we came in. It's been great to have some time to unwind, get some jobs done, and also get to see some of the city. I'm only going to do the one post about the entire three days, so there's a summary of each day below along with some of the photos I've taken along the way.
Tomorrow we start a seven day week which includes crossing into Guinea for the first time. It also sees some deteriorating road conditions including out first real stage with long stretches of gravel / sand.
The plan for the week looks like this: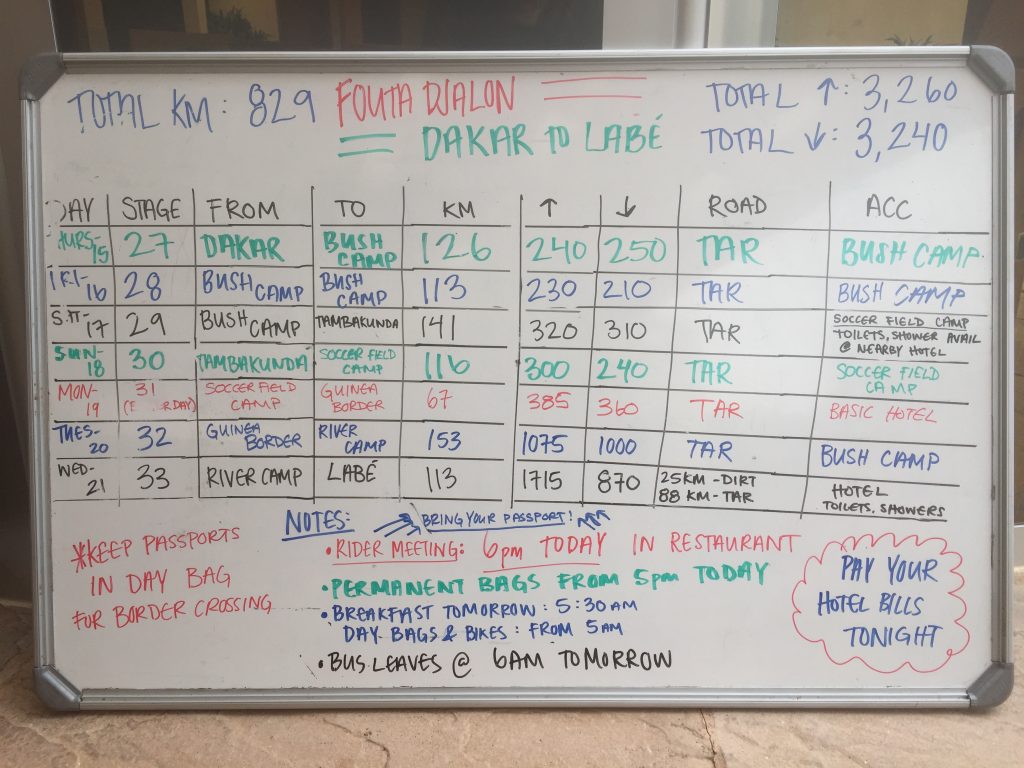 The weather for Dakar doesn't look too bad, but from all reports it's going to be hotter and more humid inland until we start getting up to higher altitudes later in the week in Guinea – but I can't find an online forecast for anywhere there.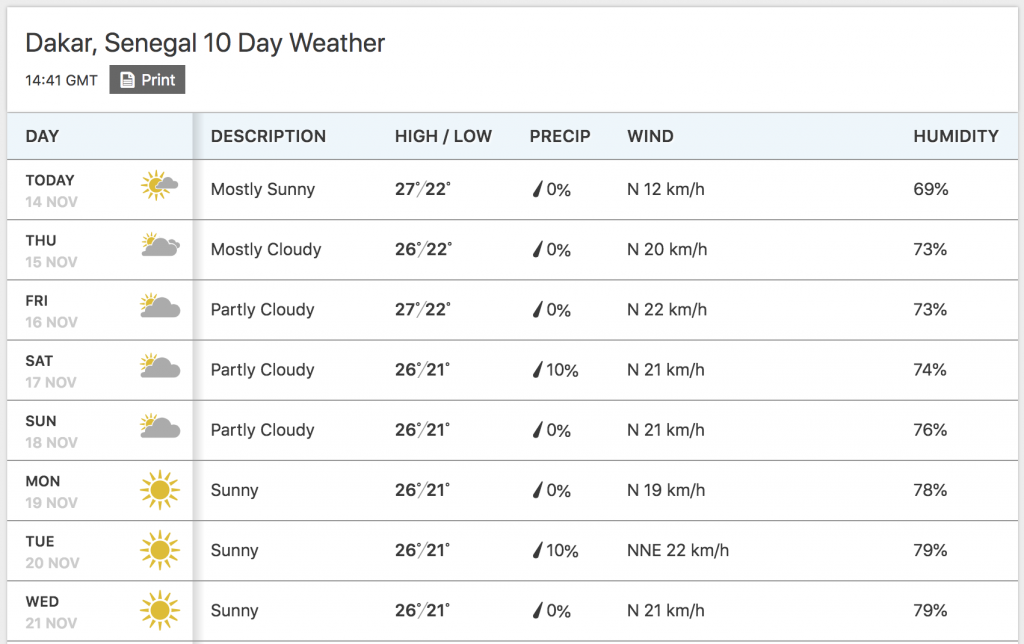 For the next few days it would be great if that wind could swing a bit more to the west as we have to get a long way east to get round both The Gambia and Guinea-Bissau.
Day one
Up earlier than ideal because we had to have our Guinea application forms in to Max at 0700 so he and Phillipe could get them to the embassy as soon as it opens this morning.
I spent some time doing blog updates and then set off in to town to try and solve the missing laptop charger issue. I tried explaining to a taxi driver where I wanted to go, but in the end it was simpler to get my bike out and ride into the city.
It was pretty hectic, but not really much worse than any of the other bigger cities we've ridden in. I found it a bit weird riding on my own, and for the first couple of km kept going to point out potholes and speed-bumps to the non-existent riders behind me.
Thankfully the store was where it was supposed to be, and it had a charger – it was pretty expensive (about 50% over the odds), but you can't be too picky when you're in West Africa!
Back to the hotel and I spent most of the afternoon getting caught up with work and work-related emails which I've been putting off for the last week or so.
In the evening a group of us went out to have a farewell dinner with Annegrette who leaves tomorrow at a very nice cafe on the seafront called Sharky's.
Day two
We slept in a bit later, though not significantly. I got another blog post done and uploaded before the Kevins and I headed to the African Renaissance Memorial.
The statue / sculpture itself is pretty impressive, and the view from inside the guys forehead was pretty cool, but it wasn't worth the €10 entry fee!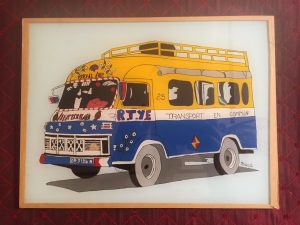 In the gift store below I managed to find some postcards, and also bought an artwork I liked – the only potential issue is that it's hand-drawn on glass, so somewhat at risk of getting broken over the course of the rest of the tour, but I liked it so much that I decided it was worth the risk.
From there the Kevins and I parted ways, them to head back to the hotel more directly, me to try and find some stamps to put on my postcards (something I'm still searching for). I did manage to find some tape for Australian Kevin to strap his shoulder up with, so he was a happy camper!
Over the course of the next couple of hours I meandered my way back to the hotel.
I spent the remainder of the afternoon working, before a couple of drinks, then heading out to another very good cafe on the seafront – Chez Fatou – with the Kevins and Hanne.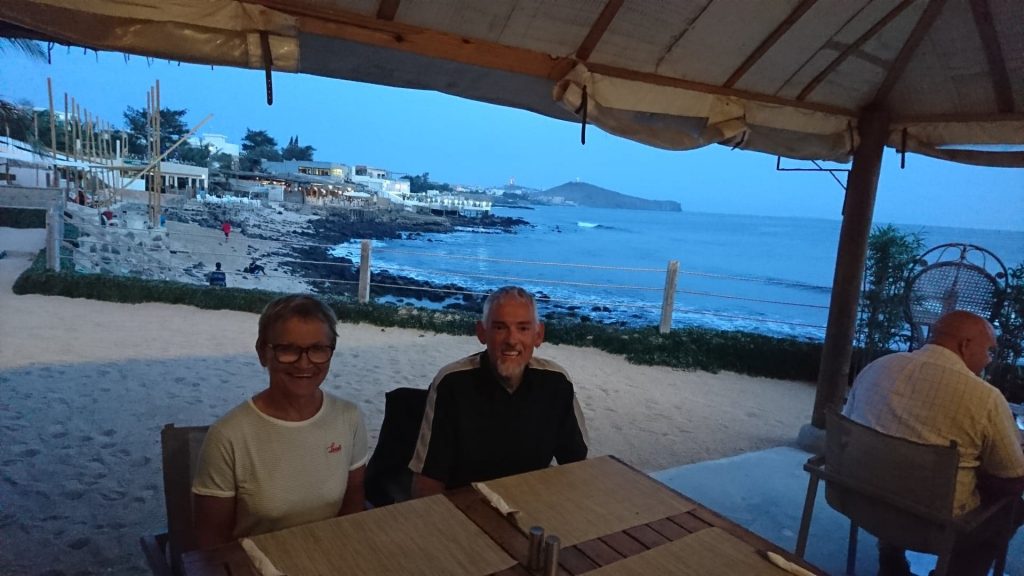 Day three
A later start, breakfast and some more blog writing.
Brian had an opps with his bike in the ocean the other day when a giant wave knocked him flat which has unfortunately rendered both his phone and his Garmin inoperable. I've brought a spare cycling computer as a precaution against issues with my Garmin, so I've lent this to him for now so spent a while downloading the manual so I could get it fitted on his bike.
Some more blog updating, a wander to Sweet Coffee for lunch, more blog writing, a little work, some more blog updates and it's now 1630 on the last day of our three days here.
While it's possible I could have made more of my time in Dakar, based on the feedback of my colleagues I've not really missed much and I've enjoyed having the time to catch up with work and the world, and to recharge my batteries for the riding ahead.
Now it's time to go and get my permanent bag repacked and onto the truck. Tomorrow we need to load daily bags from 0500, breakfast is at 0530, and we are bussed out of the city at 0600, all that happens before we even start the 126km of riding on the agenda for the day!
Riding data
Here's the update to date – I discovered that I had things slightly wrong previously – there are in fact 57 stages!
completed 26 stages for 46% of the total 57 stages
covered 3,145 km for 49% of the expected 6,395km
climbed 10,988 m and descended 10,814 m
I've spent 123 hours, 39 minutes riding at an average of 4:45 riding per stage, with the longest stage at 7:05 and the shortest at 1:52
I'll leave you with another Mateo original.